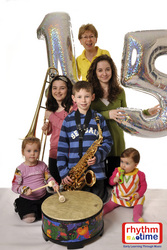 Over the 15 years, there are lots of success stories from children who have come to Rhythm Time.
(PRWeb UK) March 29, 2010
Children's franchise group Rhythm Time is celebrating its 15th successful year of providing pre-school music classes to thousands of children in the UK.
Rhythm Time is a set of unique music courses especially written for different age groups: babies, toddlers and pre-school. It offers a continuity of classes that meet the different developmental stages of a growing child.
Rhythm Time's owner and founder Kathy Doolan studied at the Royal Scottish Academy of Music and Drama in Glasgow and went on to become Head of Music in a Scottish school.
After having children Kathy wanted to combine a love of music and children and was keen to develop a business that fitted round her young family. With Kathy's background in music and teaching, she created this educationally sound children's franchise. With a box of instruments she embarked on her new venture in the midlands and Rhythm Time was created.
Says Kathy: "The response to the classes was fantastic. Demand was so great that I quickly had to train others and set up more classes."
Kathy has a firm belief that every pre-school child should have the opportunity to attend well structured, fun, quality music classes that will in turn lead a child to an early love of music and realise their musical potential.
"After five years I realised that there was a gap in the market for a quality children's franchise of this type and Rhythm Time became a franchised group. Ten years on, franchises continue to grow and we are keen to pursue future international expansion." adds Kathy.
Music classes for babies start as young as just six weeks old and are designed to provide all round stimulation to a baby's senses.
At around 15 months the babies progress onto music classes for toddlers which recognise that the child is ready for new challenges. Children are encouraged to listen, explore percussion instruments, with lots of dancing and singing too.
Music classes for pre-school begin at 3 years and are an ideal preparation for going to school and playing an instrument later. The classes are based on the Early Years Foundation and are designed to encourage independence, while children play rhythm and pitch games, listen to orchestral instruments and have great fun.
Says Kathy: "Over the 15 years, there are lots of success stories from children who have come to Rhythm Time. Many have gone on to play musical instruments and achieve high grades in recognised music exam boards. Whilst others have gone on to sing in choirs and some have gone on to chorister schools. Above all I believe their confidence as individuals is their greatest achievement during their time with us."
"It gives me a great sense of pride knowing that the early exposure to music has had such a great effect on the children. Many parents keep in touch and tell me of their child's musical achievements."
Each week there are many enquiries from prospective franchisees looking to achieve a healthier work/life balance or just interested in a children's franchise. They are invited to come along and see for themselves how well structured, fun and educational the classes are.
"I had never dreamed that I would be running a successful children's franchise. Rhythm Time has been described as "... the light in a child's musical darkness..." which is a great credit to all our franchisees who carry on the core values and beliefs of the Rhythm Time brand."
If you are interested in finding out more about a children's franchise with Rhythm Time and would like more information about Rhythm Time franchise opportunities, please contact Kathy Doolan, founder and director or Tracy Evans, marketing adviser, 0121 711 4224,
Information For Editors
Rhythm Time
76 Beechwood Park Road
Solihull
B91 1ES
Telephone: 07813 831516 / 0121 711 4224
Rhythm Time was started in Solihull in 1995 by Kathy Doolan. After a very successful five years, Kathy decided to franchise the business in 2000.
Rhythm Time now has franchises all over the UK, operating in 181 areas with approximately 10,000 children attending classes.
Rhythm Time offers three age-appropriate classes for babies (birth to 15 months), toddlers (15 months to three years) and pre-school (three to school age).
Children come to Rhythm Time as tiny babies and progress to toddler and pre-school classes, enjoying a wonderful introduction to music.
All the courses have been created by Kathy, who trained at the Royal Scottish Academy of Music & Drama in Glasgow.
Kathy previously was head of music in a Scottish school and shares with all franchisees and teachers a real passion and belief in the importance of music during a child's formative years. She has a firm belief that every child is musical.
Kathy is a strong believer that singing unaccompanied helps to develop a child's speech and language from an early age and this forms a key element in all the classes.
###