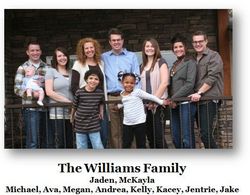 Club Sea Breeze Offers Huge Savings In Over 5,000 Hotels & Resorts Around The World...
Kaysville, Utah (PRWEB) March 30, 2010
CEO, Kelly Williams and the Williams family will be launching their long awaited travel/network marketing company on Friday, April 2, 2010. With a revolutionary compensation plan and huge travel benefits, Club Sea Breeze will be the next big giant in the home business industry.
It all started on a 4th of July weekend in 1996, when Kelly Williams lost his 2 year old son (Keaton) to a drowning accident in a family swimming pool. The death of Keaton was his "wake up call" to what is truly important in his life. Kelly vowed that he would build a business that gave him the opportunity to have total control of his time and build his greatest asset, his family.
That same year, Kelly was introduced to a travel/network marketing concept. Within a short period of time, Kelly became a top producer with the company. He met with the founders of the company and he left knowing that regardless of the income levels he was achieving, he could no longer promote that company due to some of the unethical and dishonest decisions they planned to make. It was at this time that a seed was planted, that one day he would own his own network marketing company.
Since that time, he continued to learn and utilize his online marketing skills together with his family to enjoy great success and meet wonderful people from all over the world. Unfortunately, in the face of this success, they continued to bump into more unethical and dishonest people running some of these companies. It was with this realization that they decided to take complete control and create their own company.
That's when Club Sea Breeze was born and notices their tag line, "The Winds of Change…"
As one can see, Club Sea Breeze wasn't something that was just thrown together on a whim, but came together as a result of ALL Kelly's past experiences. Kelly and the Williams family have taken into consideration all of the good and the bad from their past, to create, what they take full confidence in saying is, "the best of the best."
Club Sea Breeze mission is, "To provide an innovative opportunity structure and a unique mixture of products that can truly empower ordinary people for a lifetime."
Kelly mentions that their core concepts are Family, Balance, Honesty, Integrity, and Teamwork.
Kelly and the Williams family have introduced two products that any family can enjoy for many years to come. First, the Club Sea Breeze travel membership is a life-time travel membership that offers huge savings on hotels and resorts in over 5,000 locations around the world. With no blackout dates and no limit on how many trips one can take, one will quickly see that CSB travel membership will sell itself.
Club Sea Breeze also offer a second product called, "Money Manager". Partnering up with the Financial Wellness Group, they provide an on-line tool that will help any family learn how to balance their money and find financial prosperity.
Club Sea Breeze has a very lucrative compensation plan that meets all the requirements from the Federal Trade Commission (FTC). Basically one will start on a two by two revolving matrix, which focuses on the core value of people helping people in a very simplistic approach. One earns a $60 (USD) commission when one sells a CSB membership. One can also collect a $500 (USD) commission when one cycle from ones profit center out a revolving 2x2 matrix. One also collects another $250 (USD) every time one's personally sponsored members exit the matrix as well.
Club Sea Breeze Advisory Board Member and Online Consultant/Strategist, Min Kim has been in the direct sales industry for over 8 years. He specialized in aiming to educate, empower, and encourage his fellow associates in pursuing their business goals with integrity & passion. He works with each of his clients, directly and provides one-on-one coaching on how to brand themselves as their number one product.
To learn more about Club Sea Breeze, visit: http://ClubSeaBreeze.mobi
If you are looking for an online business coach and would like a FREE consultation with Min Kim, simply contact: (954) 367-6165 or via Skype: min.kim25
###