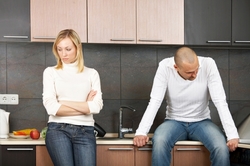 Ultimate challenge of divorce is learning how best to deal with both the legal and emotional issues that arise at a time when many are least able to deal with them objectively
Bath, UK (PRWeb UK) March 30, 2010
With summer days ahead, wedding bells become a familiar sound. Falling in love and getting married can be one of life's high points. Divorce tends to fall at the opposite end of the emotional spectrum.
Divorce is one of the most emotionally disturbing transitions a person can face. The negative emotions associated with divorce, cause more than hurt feelings; they can impact on the final outcome of settlement negotiations or court litigation, on how children are affected by their parents' divorce, and on how the divorced couple relate and co-parent into the future.
On top of being a time of deep emotional turmoil, divorce is a legal and even a business transaction. The ultimate challenge of divorce is learning how best to deal with both the legal and emotional issues that arise at a time when many are least able to deal with them objectively.
By combining their different professional perspectives and years of experience, specialist family lawyer Richard Sharp of Sharp Family Law, Bath Divorce Solicitors and psychotherapist family consultant Christopher Mills are able to help clients understand that the emotional and legal aspects of divorce are part of the same package, have a direct influence on each other and are best managed together.
Together Richard Sharp and Christopher Mills have created a team approach to offer a unique joint service for Bath that will help separating and divorcing clients

Gain perspective on their legal options early on
Make better informed decision
Understand and meet their children's best interests
Improve the efficiency of the separation and divorce process
Enable family members to move forward positively with the rest of their lives.
To learn more about this new divorce service contact Richard Sharp (m: 07798 606740 t: 01225 870336, website: http://www.sharpfamilylaw.com ) or Christopher Mills (m: 07812 364070 t: 01225 445237, website http://www.chrismills.uk.com – The office is located at 3, Miles's Buildings, George Street, Bath, BA1 2QS, UK
###