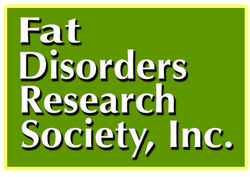 "Fat Disorders patients can often go more than 10 years without a correct diagnosis and a misdiagnosis can be tragic."
Chicago, IL (PRWEB) March 29, 2010
The Fat Disorders Research Society, Inc. will hold its 2nd Annual Midwest Conference on Saturday, April 24, 2010. The Conference will be held at the Sheraton Suites Chicago located at 121 Northwest Point Boulevard, Elk Grove Village, IL 60007. FDRS is a newly formed 501 (c) (3) non-profit organization dedicated to spreading awareness of rare fat disorders, such as Dercum's Disease, Lipedema, and Madelung's Disease.
Fat disorders are commonly misdiagnosed often unrecognized conditions that include Dercum's Disease, Lipedema, http://fatdisorders.org/what-are-fat-disorders/madelung's-disease/ Madelung's Disease, and Familial Multiple Lipomatosis. These facts will be emphasized in an upcoming production of a Discovery Health episode of "Mystery Diagnosis".
The Fat Disorders Research Society's Chief Scientific/Medical Advisor, Karen L. Herbst, Ph.D., M.D., University of California, San Diego (http://www.lipomadoc.org ) will be consulted for background information by the Discovery Health program producers as they reveal these rare and mysterious disorders. Dr. Herbst is the featured speaker at the upcoming FDRS Midwest Conference. She is a globally recognized researcher on Dercum's Disease and other fat disorders.
Fat Disorders are mysteries that confound not only patients but most treating physicians as well. Many patients like Kristi Lowery, a Canadian, Texas woman, go without a proper diagnosis from multiple physicians for years.
Kristi's first symptom, a lump (or lipoma) was first noticed in 1991 when she was pregnant with her second child. In 2001, this lipoma had ballooned to the size of a grapefruit and had become extremely painful, finally it was surgically removed. By 2003, her symptoms and fatty tumors had both multiplied, leaving Kristi Lowery in constant pain. This woman did not receive a validating diagnosis of Dercum's Disease until many years and many doctors later in 2007.
People afflicted with these diseases are commonly burdened with pain and discomfort, but in Kristi's case her Dercum's Disease] became much more serious when the sheer weight of accumulated fluid around her heart and lungs almost ended her life. Now that Kristi has been properly diagnosed and is under the health care management of Dr. Herbst, she has a fresh outlook and a new chance to be part of finding a cure and effective management for these mystery fat disorders.
Education and awareness for both doctors and people who may be afflicted with these diseases is the primary goal of the FDRS. Efforts to get the word out about these rare but devastating diseases can make a difference in the many lives of people who are afflicted with them and may not even be aware that the diseases exist.
Primary care doctors in general need to be more aware of these disorders in order to effectively diagnose and treat their patients that may already be presenting with fat disorders symptoms. For example, often overweight patients are urged to exercise. Fat disorders patients that begin a normal rigorous exercise routine could face serious inflammation and excruciating pain. Awareness is key here. Doctors on the front line must be educated and learn to recognize the signs and symptoms of fat disorders so the patient's health is not further jeopardized.
Fund raising additionally is an equally important function of the Fat Disorders Research Society, Inc. Without fund raising, FDRS's plans to fund research grants for further exploration into the causes and possible cures for these diseases will be delayed. Finding a cure is a long way off but determining the best way to diagnose and then manage these orphan diseases is a reasonable objective and FDRS is forging ahead to find funding to make this happen.
The 2nd annual FDRS Midwest Conference is a great way for medical professionals and patients to come together and meet to share information and learn about the future of Fat Disorders research. Several other guest speakers will cover a range of topics that include nutraceuticals, patient stories, medical advances, caregiver tips, and treatment. Everyone is invited to attend!
The Conference runs from 9:30am until 5:00pm. The cost to attend is $15 per person or $25 a couple. This cost includes breaks, a buffet luncheon, as well as informational materials. There will be a Silent Auction and interesting raffle items too. The Conference may be pre-paid at this link: http://fatdisorders.org/837/2nd-annual-fat-disorders-research-society-midwest-conference/.
There is a block of room reserved at the Sheraton Suites Chicago, Elk Grove Village, for both Friday 4/23/10 and Saturday, 4/24/10. The event room rate will be $69 (for a suite) as compared to the normal rate of $189! Attendees are responsible for reserving their own rooms. Please use this special link to reserve your room: Starwood Reservations or call 1-800-325-3535. You must identify yourself with the Fat Disorders Research Society to qualify for the special reduced room rate. Room requests should be made by Friday, April 2, 2010 to receive the group rate. To preview the hotel and its amenities, please use this link: Sheraton Elk Grove Village.
Conference attendees arriving on Friday night are also invited to the hotel lobby lounge for an informal "Meet and Greet" from 5pm until 7:30pm.
For more information about the Conference or the FDRS, please contact Susan Grimshaw, FDRS President, at 920-763-3159,
Susan Grimshaw
President
Fat Disorders Research Society, Inc.http://fatdisorders.org
###