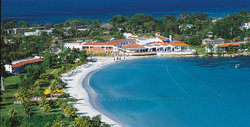 "This sale really has us excited. Rarely do we see these types of deals in the middle of peak travel season"
Lexington, KY (PRWEB) March 29, 2010
All Inclusive Outlet , an online clearinghouse for exceptional all inclusive vacations, today announced a 4-day Super Inclusive March Madness Sale at Breezes Resorts in the Caribbean and Panama. With amazingly low rates on Breezes all inclusive packages, this limited window of opportunity allows shoppers the chance to find Ocean View all inclusive accommodations for as little as $78/person per night.
"This sale really has us excited. Rarely do we see these types of deals in the middle of peak travel season to the Caribbean. To have the ability to offer deals on rooms with a view is amazing", says Tom Carr, President of All Inclusive Outlet. "If you've ever dreamed of sitting on a balcony overlooking pristine waters, now is the time!"
In addition to outstanding savings on rooms with a view, Breezes Grand Negril has lowered rates on beachfront junior suites and the au natural beachfront cove accommodations. The Breezes Super Inclusive Sale includes options to suit a variety of needs. "Savings of up to 50% off Breezes regular rates is unheard of during this time of the year," Carr said.
Hedonism Resorts joins in the celebration by offering 40% off select rooms. Guests can choose Hedonism II au natural accommodations with some of the lowest rates of the year or try the playful Hedonism III with great savings on the oceanfront category.
"These unbelievable rates will be available on Monday morning, March 29th, through our exclusive online reservations system. We encourage our customers to book early before inventory sells out," said Karl Persson, Vice President of E-Commerce at All Inclusive Outlet. "It is our goal to keep our customers up to date on the latest and greatest promotions. Don't miss your chance on this one." Breezes Resorts March Madness Sale
All Inclusive Outlet is the leading authority on all inclusive vacations in the Caribbean, Mexico and Latin America.
Breezes Resorts features all inclusive getaways to Jamaica, the Bahamas, Curacao and Panama. Hedonism Resorts in Jamaica cater to uninhibited pleasure seekers looking for the ultimate playground. Breezes and Hedonism Resorts are both managed by the Superclubs Resorts.
###