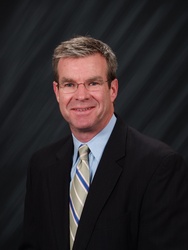 Our goal is to be the Stamford area's place to meet and to resonate strongly with a city that has long been underserved.
STAMFORD, CT (PRWEB) March 29, 2010
The Hilton Stamford Hotel & Executive Meeting Center – with more than 45,000 square feet of stylish event space, impeccable service, and the latest in technology for weddings, conferences and social events of all types – has debuted a dynamic new team to provide strong leadership and reintroduce the region's most complete event and ballroom facilities and only IACC (International Association of Conference Centers) - approved executive conference center.
The team is headed up by General Manager Mark Anderson, a 25-year veteran of the hospitality industry and former General Manager for such prestigious hotels as the Sheraton Boston, Westin Providence with 75,000 square feet of meeting space, Sheraton Hyannis Resort, Four Points Cape Cod and the Hilton Stamford. Anderson is a graduate of Johnson and Wales University.
"My goal is for the Hilton Stamford to be the area's place to meet and to resonate strongly with a city that has long been underserved," said Anderson. "We are set to become the area's epicenter for hospitality and an important addition to our community for all types of meetings, conferences and social events."
The hotel's new Director of Sales & Marketing is Anthony Amendola, who formerly headed up sales and marketing for the Paramount and Millennium UN Plaza hotels in Manhattan. He was also Director of Sales & Marketing for the Westin Stamford where he received the 1999 Westin Award, and for the Sheraton Meadowlands in New Jersey and Sheraton Stamford Hotel. A resident of Wilton, CT, Amendola holds a Bachelor of Arts degree from Villanova University.
Also onboard is Harald Sterk as Executive Chef, who brings his culinary talents and favorite dishes to the area. A native of Trier, Germany, Chef Sterk was formerly with Vista International and has an impressive background that includes decades of work in Europe for Hilton International and tenure at some of the world's finest hotels. In addition, he has trained under and was inspired by Chef Paul Prudhomme and earned rave reviews and awards at the New York and Chicago Food Shows and prestigious Wiser Culinary Classic.
COMMUNITY WOWED BY WORLD-CLASS OFFERINGS
With a personal interest in building and supporting the Stamford area, General Manager Mark Anderson has a strong commitment to the community and encourages organizations and residents to sample the hotel's world-class banquet and event offerings.
"We have an experienced and service-minded team of dedicated hospitality professionals who are flexible, approachable and enthusiastically look forward to serving this community with outstanding service," he said.
The team is adept at executing myriad functions, from small executive meetings and intimate dinners, to stylish cocktail parties and large-scale galas.
Most recently, the hotel donated breakfast for all the volunteers and parade marchers as the official parade hotel sponsor for the UBS Parade Spectacular, one of the nation's largest helium balloon parades. "It is only with the continued support of sponsor such as Hilton Stamford that we are able to bring such a remarkable event with 'star quality' entertainment to our city, making Stamford Downtown a wonderful place to patronize," the organization acknowledged.
The hotel is also an active sponsor of buildOn, which partners with communities in developing countries to build schools.. As part of earthquake relief efforts, the Hilton Stamford donated hygienic supplies as Stamford area high school students and the hotel staff worked side by side to benefit the Haiti relief project.
THE REGION'S LARGEST, BEST FACILITIES
The Hilton Stamford showcases a unique combination of location, outstanding banquet, conference and catering services, top-notch guest accommodations and full service amenities, all supported by a commitment to exceptional service. Meetings and events are designed with attendees' convenience and comfort in mind, with the latest technology and ergonomically friendly features.
Full-service facilities include a 10,200 square foot Grand Ballroom, 7,200 square foot Garden Pavilion, and Executive Meeting Center with 11,000 square feet of specialized conference facilities. Current offerings include Complete Meeting Packages starting at $199 with an overnight stay, dedicated meeting room, continuous all-day breaks, and breakfast, lunch and dinner buffets.
The Hilton Stamford Hotel & Executive Meeting Center's 484 guestrooms and suites are all newly renovated and feature Hilton Serenity Beds®, complimentary WiFi, 32-inch plasma TV, and Crabtree & Evelyn La Source bath products. Amenities include acomplimentary a 24-hour Business Center; Senses Restaurant & Lounge; room service; swimming pool and heated whirlpool; fitness facility, and tennis court. The hotel enjoys a prime location off the New England State Thruway, minutes from first class restaurants and entertainment, and shopping in nearby Greenwich, and within walking distance of the Stamford Metro-North Railroad Station.
For more information or to schedule a meeting or event, contact the Sales Office at 203-351-1860 or 203-967-2222 or visit http://www.hiltonstamfordhotel.com.
###