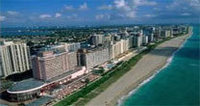 If you are interested in the Miami, Florida area and are eager to take advantage of waterfront or condo properties at bargain prices, Short Sales could very well be the answer.
Miami, FL (PRWEB) March 30, 2010
For those who love the Florida area and are eager to take advantage of waterfront or condo properties at bargain prices, Short Sales could very well be the answer in 2010. Izzy Buholzer, Licensed Realtor/Agent and one of the most respected real estate businessmen in Florida, spoke today about the advantages of short sales and why lenders prefer them to foreclosures.
"Since Florida has seen such a huge drop in property prices, there has been a major increase in 'Short Sales,' an attractive alternative to foreclosures for lenders, buyers and sellers alike. However, there are certain conditions that must be met in a short sales transactions, so buyers or sellers who are considering short sales, should work only with a savvy team of professionals that have successfully completed Short Sales," stated Buholzer. "A Short Sales is the sale of properties that fall short of what the owner owes on their mortgage with the difference between the selling price and the actual amount owed being forgiven by the lender."
To ensure the success of a Short Sale, the team at Miami Real Estate has joined forces with Robert Rosenberg of San Carlos Title to mitigate all of the short sale deals. Given that Mr. Rosenberg's team has successfully achieved a close in over 90 % of their deals, it's obvious why Miami Real Estate has chosen to work with Mr. Rosenberg. "As sticklers for detail, our Short Sales processes run smoothly due to all the attention and effort applied every step of the way," stated Mr. Rosenberg. "We attribute our high level of success to the extensive experience of all those involved in the transaction. In fact, we are excited to work with Short Sales experts such as Izzy Buholzer, and his Miami Real Estate Team, as any buyer or seller is safe in the hands of experienced, results orientated realtors such as our team at ibmiami.com," Rosenberg concluded.
With the Dept. of Treasury's new HAFA Guidelines expediting and providing accountability to the process, the pace of Short Sales continues to rise, often being approved within 60 days. This not only paves the way for buyers and sellers to reach their goals more quickly, but because the short sale saves everyone time, money and effort, it presents clear advantages to the seller, the bank and the buyer.
Whether a seller wants to salvage their investments or a buyer wants to take advantage of waterfront or condo properties, the experienced Miami Real Estate Team is skilled and successful in the field of Short Sales. Consistently working at a higher level than other companies, Izzy Buholzer successfully published and built a path to Short Sales in 2007. To reap the benefits of a Miami Short Sales versus Miami foreclosures, or to learn more about Short Sales, visit http://www.ibmiami.com. To speak with an agent, call 305.476.8000 or contact Izzy Buholzer at izzy(at)ibmiami(dot)com.
Contact Info:
Izzy Buholzer
The Miami Real Estate Team
Miami, Florida
Telephone: 305-476.8000
E-Mail: izzy(at)ibmiami(dot)com
###