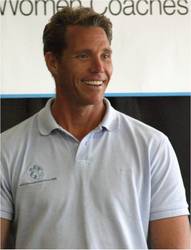 In the past, it was acceptable for coaches to be very directive and tell their athletes exactly what to do and when to do it... The challenge with today's young athletes is they expect coaches to treat them as individuals and let them have some input too.
San Diego, CA (PRWEB) March 30, 2010
In a January 2010 survey, a staggering 65% of American coaches surveyed reported that Generation Y athletes (currently aged between 14 and 29 years old) are harder to coach than previous generations. And 40% of these coaches claim they are "much harder" to coach. This was echoed in another survey of Australian coaches taken at the end of 2009 that showed that over half the coaches believed that getting to know their athletes was the toughest barrier they had to conquer.
These results came as no surprise to Bo Hanson, Coaching Consultant and Director of Athlete Assessments, whose company undertook the surveys. Having previously competed at four Olympics and winning three medals, the former champion rower knows all about what makes a phenomenal coach, and the challenges they face.
"Coaching athletes today is so different from what may have been acceptable in the past," says Hanson.
"Athletes expect coaches to view them as whole people, and not just as a winner or a budding champion. And they expect their coach to understand their personality and their idiosyncrasies."
Hanson said his company had worked with many coaches who admitted they had struggled to understand this approach.
"In the past, it was acceptable for coaches to direct their athletes and tell them what to do and when to do it, but today this approach will leave both the coach and the athlete frustrated and eventually one of them will leave," he said.
"The challenge of Generation Y, is that today's young athletes expect coaches to treat them as individuals and they anticipate they will be given the opportunity to have input into their training program."
Hanson added that the simplest question to ask yourself as a coach is "Do your athletes care?".
The top three challenges faced by sports coaches (as revealed in the 2009 coach survey) are:
1. 50% - "Understanding individual athlete's personality and how to best motivate them"
2. 46% - "Personal life balance – managing sport, career, home and social etc"
3. 31% - "Team/squad dynamics and managing relationships within the team/squad"
The survey also asked coaches what they believed were the top three characteristics of a phenomenal coach, and the responses were:
1. 61% - "Focusing on the athlete as a 'whole person' (to develop in and outside the sport)"
2. 55% - "Strong communication skills and ability to teach'"
3. 53% - "Persistence in looking for new ways, techniques and tools to improve performance"
Mr Hanson said the aim of Athlete Assessments was to work with coaches to develop strategies to improve their coaching skills and to give them choices on how to coach the different types of personalities they will find on their teams.
"Today, if a coach wants a great strength and conditioning program, it can be found on the internet or in a book, so there is no competitive edge available in this area," he said.
"But how a coach enables their athletes to be the best every time they compete; how they create the type of environment where their athletes can be the best they can be; and how they work towards having a team of totally committed athletes who want to win, for themselves, each other and the team – that is where the distinctions can be found. Coaches who know how to do this win more often. And, we help coaches create these results with their teams."
"This is so critical for coaches to know as more and more research is highlighting the critical nature of the coach-athlete relationship," Hanson said.
For example in the 2009 study by the Canadian Olympic Committee they found the most significant contributor to a medal winning performance or a personal best performance at the Beijing Olympics, was a strong coach-athlete relationship.
"You cannot be the best coach for Generation Y athletes unless you have an extremely strong and effective coach-athlete relationship."
Athlete Assessments is the leading sports consultancy supporting coaches, athletes and teams who want to improve their performance by gaining knowledge of their sporting personality, the behaviors creating their athletic results and developing the coach-athlete relationship.
###