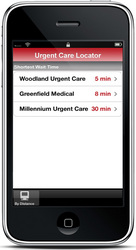 our mission is to provide the most accurate wait time information. We mark wait time information stale if it's not updated at least every two hours."
Detroit, MI (PRWEB) March 29, 2010
Today, Urgent Care Locator is launching a service that will allow Urgent Care facilities to publish their wait time information to their website. This will allow potential patients to plan their visit to the facility when it's not as busy. Otherwise, they can access UrgentCareLocator.com and find another urgent care that's in the area that has a shorter wait time. If potential patients don't have access to the Internet, they can call the Urgent Care Locator 411 service: an automated voice response system that provides the same information using a telephone.
"We believe that time is precious – you can't get it back once it's gone! Therefore, our mission is to provide the most accurate wait time information. We mark wait time information stale if it's not updated at least every two hours." stated Mack Hendricks, Founder and Chief Developer of Urgent Care Locator. Mack started Urgent Care Locator almost two years ago when he moved to Downtown Detroit and was looking for an Urgent Care facility for his daughter that had qualified staff, but minimum wait time.
To help launch this service, Urgent Care Locator will be contacting urgent care centers to obtain their wait time every two hours during their business hours. The goal is to get staff at urgent care facilities comfortable with updating this information via the web. The launch of this service is targeted, but not limited to Michigan and Houston, Texas. An iPhone Application is scheduled for release within the next couple of months, which will allow potential patients to lookup wait time based on their current location or via a zip code.
Urgent Care Locator is available at http://urgentcarelocator.com/. For more information, please contact kclabon@urgentcarelocator.com
Photos:
http://urgentcarelocator.com/pr/waittime_search.jpg
http://urgentcarelocator.com/pr/waittime_results.jpg
http://urgentcarelocator.com/pr/iphone_app_large.jpg
About Urgent Care Locator
Started in 2008, after a parent had problems locating an urgent care center for his child that had contracted conjunctivitis (also known as pinkeye). The company was originally focused on allowing people to rate urgent cares, but soon added other services that would help others make an informed decision in selecting an urgent care. Urgent Care Locator has over 1500 Urgent Cares in their database.
###