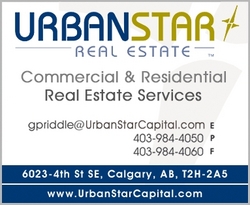 (PRWEB) March 29, 2010
UrbanStar Real Estate, a full service commercial and residential real estate brokerage firm operating in Western Canada, enters this thriving market with a solid approach: to provide first class customer service and make the real estate process simple and clear. The foundations of this service are the UrbanStar Real Estate professionals, recognized market leaders providing cutting-edge training to agents. They have superior knowledge of local markets in Alberta and an unparalleled ability to create innovative strategies and marketing campaigns tailored to meet the clients' distinctive needs. The principal figure in the brokerage is Guy M. Priddle.
Guy M. Priddle, MBA, RPA | Broker. Mr. Priddle operates the UrbanStar Real Estate Inc. brokerage and is registered with the Alberta Real Estate Association. Mr. Priddle contributes with over 24 years of extensive experience in the real estate industry, covering all aspects of commercial transactions, strategic and capital planning, acquisitions / dispositions, asset and property management, construction and contract management, financial analysis and modeling, tenant services building operations management, and negotiations. Mr. Priddle's experience ranges from large insurance and pension companies to small, personal property investors; servicing all types of property including bare land and small retail or residential, large and small industrial, and major downtown class AA office buildings. He is also President of UrbanStar Capital, President of BOMA Calgary, and a member of the University of Calgary / Haskayne School of Business Alumni Association.
UrbanStar Real Estate is active across the full spectrum of brokerage services for both residential and commercial properties, as well as property management and investment. The firm currently manages over 40 properties in the City of Calgary. It offers commercial real estate services for tenants, owners, and investors that include commercial transaction representation with the purpose of maximizing return on the clients' investments, high quality management of property and operations set with clear goals and expectations, and capital and asset management considering all factors involved in real estate investment. Residential real estate services include buying, selling and marketing assistance and tools.
To learn more about the company's business strategy, its extensive list of services and current opportunities, please visit http://www.urbanstarcapital.com/ or call 403-984-4050. The office is located at 6023-4th St SE, Calgary, AB, T2H-2A5.
About UrbanStar Real Estate
UrbanStar Real Estate Inc., a subsidiary of UrbanStar Capital, provides clients with full service commercial and residential real estate brokerage services available throughout Western Canada.
About UrbanStar Capital
UrbanStar Capital is a full service real estate asset management and investment firm that designs, implements and operates real estate asset management solutions for investors. Founded in 2009 in response to the growth in development opportunities across Western Canada, UrbanStar Capital, through its subsidiaries UrbanStar Real Estate Inc. and UrbanStar Mortgages, is licensed to provide land and capital investment offerings, real estate brokerage services and mortgage brokerage services.
###