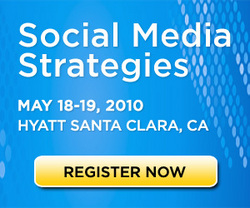 Santa Clara, CA (PRWEB) March 30, 2010
Social Media Strategies Conference, today announced the addition of a panel discussion on "Blogging for Business". The panel will feature a panel of industry experts sharing their ideas on developing and maintaining an effective corporate blogging strategy. The panel will discuss approaches to:

Making Announcements
Crisis Management
Legal Implications
Branding Strategies
Reputation Management
Optimization Techniques
Platforms, Tools and Services
The panelists include:
Reshma Kumar, Manager of Web Design, Verisign
Richard Brewer-Hay, Chief Blogger, eBay
Tony Welch, Lead Social Media Strategist and Community Manager, Hewlett Packard
The conference will also feature two workshops on:
How you market your business on Facebook to increase revenue, drive website visitors and create brand awareness through customer engagement.
In this workshop you will learn:

Ten tips for getting your Fan Page found
How to create a branded Facebook user name
How often should you be posting and what should you be posting
Should you advertise on Facebook
How can you use Facebook to build your email database
What types of contests and user polls you should be using to drive engagement
How you can promote special deals and offers to the fans of your Facebook page to drive revenue
How to Market on Twitter
In this workshop you will learn:

How to use Twitter to drive revenue, build your email database and brand awareness
Learn our five step marketing plan for Twitter
Avoid the biggest mistakes made with Twitter
Examples of "best practices"
How to measure your success
Valuable Twitter tools and apps that you should be using to market with Twitter
The conference will feature discussions on social media marketing and optimization strategies, techniques and cases studies for creating and implementing a social media campaign, and delve into social media strategies for lead generation, increasing website traffic, social analytics, engagement and ROI.
The two-day Conference will feature thought leaders in the Social Media industry, sharing their knowledge on best practices, marketing strategies and real world examples and how businesses can leverage social media it to achieve their business goals.
The Social Media Strategies Conference is relevant and geared towards:

Chief Marketing Officers (CMOs)
Social Media Marketers, Managers & Strategists
Online Advertisers, Ecommerce & Internet Marketers
Online Community Managers
Search Engine Marketers
Search Engine Optimization Specialists (SEO)
Web Analytics Professionals
Ad Agencies
Media planners, Buyers & Publishers
About Social Media Strategies
The Social Media Strategies is a conference on social business, social marketing, advertising and optimization. It is the premier event for CMOs, Social Media Marketers, Manager, Strategists, Search Marketers, Online Community Managers, Corporate Communications, PR, Marketing, Advertising, and Recruiting Professionals. For more information visit http://www.webguild.org/events/socialmedia/
Contact: Daya Baran 650-450-4247
###