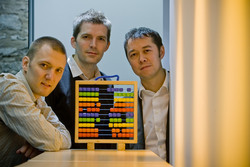 FreeAgent users quickly become highly vocal advocates for the service. By building powerful analytical tools for practitioners, we hope to infuse the same levels of passion and enthusiasm among professional accountants - Ed Molyneux
(PRWEB) March 30, 2010
FreeAgent Central, the Edinburgh-based software company, today announces a strategic partnership with Iris, the UK's largest private software house, opening up the significant accounting practice market to their award-winning online accounting software 'FreeAgent' and positioning the company for rapid growth.
Iris supplies software to over 60,000 businesses across the UK. With a total of 28,000 accountancy practices in the UK, Iris dominates the accountancy practice software market with 50% marketshare and 14,000 active accountancy customers.
The deal also sees Iris acquiring a minority stake in FreeAgent Central for an undisclosed sum, and Phill Robinson, Iris's Accounting Practice Solutions' Managing Director, joining FreeAgent Central's board.
Robinson, formerly Chief Marketing Officer and Chief Operating Officer – Sales & Distribution at ground-breaking Software-as-a-Service (SaaS) company Salesforce.com, will be invaluable to FreeAgent Central as it looks to continue its rapid growth both in the UK and internationally.
Phill Robinson comments: "Having surveyed the market we were incredibly impressed with FreeAgent and its management team. Everyone at Iris is excited about the opportunity to be working with FreeAgent and to be changing the technology landscape of the accountancy practice sector through the use of ground-breaking products and technology."
Ed Molyneux, FreeAgent Central's MD comments: "This is an important milestone for FreeAgent Central and our strategic partnership aims to deliver a number of SaaS based solutions to the mainstream accounting practice software market.
"Accountants have a unique opportunity in these trying economic times to help small businesses survive and even thrive. FreeAgent and Iris will help them to do that through new levels of collaboration made possible by this partnership.
"FreeAgent users quickly become highly vocal advocates for the service. By building powerful analytical tools for practitioners, we hope to infuse the same levels of passion and enthusiasm among professional accountants."
Existing investors, including Robin Klein (The Accelerator Group) and serial angel investor Christoph Janz, also participated in the investment round.
FreeAgent Central has pioneered online accounting since its launch in 2007 and has steadily grown a loyal community of small businesses. Unlike most accounting software packages, FreeAgent is designed for users without an accounting or book keeping background.
Small business owners need to be in control of their finances, particularly during the tough times of recession. It is easy to use and gives a clear, real time, picture of a business's finances, making financial decisions easier to make. It allows users to invoice clients, track expenses and work out what they owe the taxman. Being online FreeAgent is accessible around the clock, updating its software on demand.
The software has a clean and simple design, highly intuitive and usable. It will prepare VAT returns, calculate self assessed income tax and corporation tax and manage PAYE and National Insurance. Users can monitor profit and loss, send and track invoices, track time and expenses, manage projects and payments.
About FreeAgent Central:
Edinburgh-based independent software company FreeAgent Central has pioneered online accounting since the launch of its 'FreeAgent' service in 2007, rapidly growing a loyal community of small businesses, and now having over 2,000 subscribers who pay monthly for access to its easy-to-use software. Subscriber numbers are currently growing by over 10% per month.
As well as making accounting easy for business owners to understand, FreeAgent offers unique real-time projections of tax liabilities including VAT, Self-Assessed Income Tax and Corporation Tax. Users can also analyse bank statements, see live profit and loss reports, send and track invoices, track time and expenses, and manage projects.
The company is run by founders Ed Molyneux, Olly Headey and Roan Lavery who – originally freelancers themselves - needed a finance tool that would give them a clear picture of their business accounts. That product did not exist and so FreeAgent was born.
In a recent survey, a remarkable 99.5% FreeAgent users said they would recommend the software to others, and the service won the prize for Best Newcomer at the 2009 SIFT Media Software Satisfaction Awards. FreeAgent Central is listed on the Telegraph High Growth Index for privately-held UK firms.
About IRIS:
IRIS Software & Services is the UK's largest privately-held software company. It serves the UK accountancy sector under three brands; IRIS, PTP and Drummohr. It is the market-leading provider of fully integrated software and services to UK accountancy firms. The company has over 14,000 accountancy practices of all sizes and has 40 per cent of the country's top 50 firms as clients. IRIS is headquartered in Datchet, UK. More details at: http://www.iris.co.uk as well as the company's official CEO blog at: http://www.irisblogs.co.uk/
###