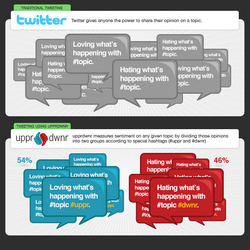 upprdwnr, on the other hand, asks the user to indicate their sentiment to provide a more explicit measurement available to anyone
Saint Louis, MO (PRWEB) March 30, 2010
upprdwnr, a Saint Louis, MO based Web technology company, today announced the launch of a new service to measure audience sentiment on Twitter.
upprdwnr allows the social community to leverage their voice by simply adding #uppr or #dwnr to a tweet that contains a topic hashtag or another Twitter symbol. Sentiment for that topic is then tracked through the upprdwnr Web site (upprdwnr.com/), and helps the growing number of social media participants understand the sentiment of a specific topic.
Jared Macke, upprdwnr Co-Founder, explained the idea of monitoring social sentiment is not new, but that upprdwnr's approach is, "There are others attempting to measure sentiment in social media. Typically, they rely on automated analysis techniques that require licensed software to determine if a person intended to say something positive or negative. upprdwnr, on the other hand, asks the user to indicate their sentiment to provide a more explicit measurement available to anyone."
Measuring immediate sentiment can be a boon to a wide-range of social media participants including business owners monitoring feedback from customers, movie-goers seeking recommendations, or bloggers that simply want to pose a question to their followers.
How it Works
upprdwnr's method asks a Twitter user to add a special hashtag to a tweet, #uppr or #dwnr, to denote positive or negative feelings about a topic, respectively. For example, a Twitter user could offer their review of Apple's latest with a tweet that included "#iPad #uppr" and upprdwnr would count that as a positive mention for #iPad. Similarly, if a Twitter user included "#iPad #dwnr" in a tweet, upprdwnr would count a negative comment on #iPad. upprdwnr would provide data on #iPad at upprdwnr.com/%23iPad.
"We like how this method makes it very clear what the writer intended. Sarcasm, slang, and brevity can all be difficult for the automated methods to accurately judge," said Macke.
By combining public voting and a sentiment mechanism, visitors to upprdwnr's Web site can search for any topic the company monitors (hashtags, Twitter usernames, and Web links) and see results at no charge.
Macke added, "Since upprdwnr relies on participation from the Twitter community, we're hoping our fellow Tweeps are eager to start taking sides on things in a new way."
About upprdwnr, LLC:
upprdwnr is a Web technology company making social opinion more actionable and more accessible to its users. The company is based in Saint Louis, MO. To learn more about upprdwnr visit, http://upprdwnr.com, upprdwnr.com, and follow us on Twitter (@upprdwnr).
Upprdwnr is pronounced "upper-downer"
Media Contact
E-mail - feedback (at) upprdwnr (dot) com
###