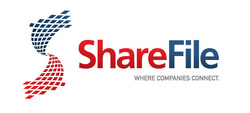 The goal of our virtual data room product has always been to offer all of the security and features of high-end data rooms at a price that is affordable for small and mid market transactions
Raleigh, NC (Vocus) March 31, 2010
ShareFile, a leading provider of secure file transfer solutions, has announced the release of several new features for its Virtual Data Room product. ShareFile's affordable data room solutions have quickly become the "go to" choice for many investment banks, private equity firms, venture capitalists, and law firms throughout the world. The already full-featured virtual data rooms were upgraded in mid-March and current customers are already enjoying the numerous additional features.
Some of the new features in the March release include:

Full-text search of documents in the data room, including optical character recognition (OCR) technology to search scanned documents.
Ability to track the number of minutes and seconds that users view each page of a document in the data room
A Deal Analytics module, providing unparalleled insight and reporting of data room usage.
Click Trails, a new feature that lets the data room administrator play back individual user sessions, seeing which folders the user clicked into, which documents were viewed (and for how long) , and what keyword terms were searched for.
"The goal of our virtual data room product has always been to offer all of the security and features of high-end data rooms at a price that is affordable for small and mid market transactions," stated CEO Jesse Lipson. "This new product release shows that ShareFile is continuing to innovate and raise the bar for VDRs."
ShareFile's virtual data rooms allow administrators to create an unlimited number of data rooms with an unlimited number of users for one flat monthly rate, making multiple deals or interactions with multiple clients affordable.
About ShareFile:
Headquartered in Raleigh, North Carolina, ShareFile is a leading provider of tools for sending business files easily, securely, and professionally. Unlike an FTP site, ShareFile can be accessed using any standard web browser and does not require software installation or special training. ShareFile's 1,000,000 users span over 50 industries, including accounting, advertising, law, graphic design, consulting, healthcare, and engineering. ShareFile is the 2008 Winner of CNET's WebWare 100 for file storage and security.
###