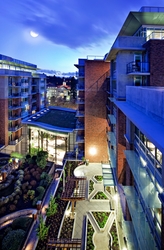 This is the culmination of 19 years of hard work and dedication by not only the executive team, but also of each and every team member in the Aviawest Resort Group."
Victoria, BC (PRWEB) March 31, 2010
Parkside Victoria Resort & Spa, Victoria's newest resort hotel, was a big winner at the 2010 American Resort Development Association (ARDA) Convention and Exposition Award Gala in Las Vegas, Nevada.
Parkside won in both the Resort Design and Site Plan Design & Utilization categories. The Resort Architecture award is focused on buildings and overall site utilization by showing exterior views, basic style and materials and floor plan layout. The Site Plan Design and Utilization award is open to vacation ownership resorts' site plans exhibiting utilization that enhances the development and characterizes the theme for lifestyle of the target market such as mixed-use, planned urban developments.
Says Jim Pearson, CEO of Aviawest, "We are absolutely thrilled to win two gold ARDY awards. It's really quite surreal to reflect on where we have come from to where we are now. To be a small family business through the financial crisis and to win these awards when we're up against the best in the world is really special. This is the culmination of 19 years of hard work and dedication by not only the executive team, but also of each and every team member in the Aviawest Resort Group."
Parkside was up against fierce competition from Disney Vacation Club, Inc., MSI Design/Walt Disney Imagineering, Hilton, Marriott and Hacienda Tres Rios in both categories.
Says Richard Hulbert, Lead Architect for the Parkside project, "The recognition awarded by ARDA for the two highest ARDY awards in the Architectural Design Category affirms our belief that it takes both a passionate, visionary client along with a dedicated professional design team to truly produce great architecture. Our client, Aviawest Resort Group, provided the original vision and inspiration for this project. Andy Pearson and his family led the way on behalf of Aviawest with Michael Wong coordinating the design consultant team effort from The Hulbert Group International Inc. Parkside is the result of a total team effort. I am very proud to have received the ARDY awards from our industry peers."
The Hulbert Group is an internationally recognized organization of planners, architects and related professionals whose professional services are grouped into Planning and Urban Design, Architecture and Communication. The original firm was established in 1974 by Richard E. Hulbert to provide professional services to private and public sector clients.
The ARDA Award Program is open to all ARDA members that completed work on a vacation ownership project including companies involved in fractional, resort and recreational, primary and secondary home resort development, vacation time sharing and vacation clubs.
Parkside is a sustainable resort hotel, as well as Canada's first resort hotel targeting LEED® Platinum Certification for sustainable development and design. Featuring world-class amenities including AquaTerre Spa, a private 29-seat movie theatre, Penthouse City Club Lounge and a 25-metre indoor pool, Parkside Victoria Resort & Spa is the only urban resort hotel of its kind offering an exceptional accommodation guest experience and affordable, flexible second home ownership in the heart of downtown Victoria, BC, Canada.
###