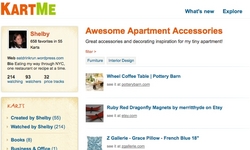 You should be able to make decisions with maps, deals and friends favorites at your fingertips.
New York, NY (PRWEB) March 30, 2010
KartMe.com, the fun, easy and intelligent way for people to organize favorites online, today announced that the company raised seed funds from angel investors who combined have made over 100 investments in private companies.
KartMe.com is a fast growing online application that ensures people never forget a recommendation at home, work, or on a smartphone. Members are using KartMe.com to plan weddings, share travel tips, decorate homes, remember wines, and more. KartMe's Save It For Later™ technology automatically backs up your information daily, searches the web for deals, and puts maps and phone numbers at your fingertips.
Since opening its alpha to the public in late 2009, KartMe has:
· Organized over 8,500 favorites;
· Saved members money with deals on electronics, toys and books;
· Received two "Staff Picks" from Apple for KartMe Mobile; and,
· Served over 4,000,000 pages to members and visitors.
"KartMe.com's mission is to help people experience the best, anytime and anywhere", said Phil Michaelson, founder and chief executive officer, KartMe. "You should be able to make decisions with maps, deals, and friends favorites at your fingertips. Our strong consumer acceptance, recognition from Apple and industry press, and the caliber of the investors are encouraging signals that we'll be able to deliver on our mission."
KartMe.com is designed to make organizing and sharing favorites easy. It takes less than a minute to get started. Users can sign up with Facebook or an email address and start reducing inbox and desktop clutter by creating a "Kart". A "Kart" is an online list. Karts serve as recipe boxes, reading lists, travel guides, or anything. Members often have 10 or more Karts. Favorites can be "kart'd", or added to lists, by clicking a button on any website; by taking a note on any iPhone, Droid or BlackBerry; or, by using an array of free tools on kartme.com.
KartMe's Save It For Later™ technology is powered by partnerships with Amazon, Google, eBay and Yelp. If a link is saved from ecommerce websites like those of Amazon, Best Buy, Barnes & Noble, and more, KartMe starts looking for deals across the web. The service has saved members money on printers, cameras, books, toys, and more. KartMe earns revenue when when it finds deals that members accept, sharing in a percentage of the purchase price. Additionally, the iPhone app is $1.99 while the mobile website, m.kartme.com, is free.
KartMe is popular among interior designers, wedding planners, and real estate agents who can collaborate on pictures and links saved from Craislist, Etsy, StyleMePretty, AparmentTherapy, or any other website. The seed funds recently raised will be invested in social, mobile, and price tracking features for consumers and professionals.
While some Karts are kept private, anyone can browse over 1,500 Karts that have been shared by members. For example, you can find crock pot recipes, gift ideas for kids and things to do in NYC.
Anyone can get started for free at http://www.kartme.com.
About KartMe
KartMe.com is the fun, easy and intelligent way to save recommendations online. And it's free. Designed around lists, KartMe offers one spot to put anything from a link to a recipe to a travel tip. KartMe then does the rest, backing up your information daily, looking for deals on products, and putting travel maps on your phone. Users save time and money, and can easily share recommendations with friends.
KartMe's founding team has experience at IBM, MothersClick.com, and Dun & Bradstreet (owner of hoovers.com). Investors include active angels and prominent individuals associated with companies including IdeaPaint, LocalMatters.com, eOffice, Vans, Papa Ginos, and others. The company was started with a grant from the Arthur Rock Center for Entrepreneurship at Harvard Business School. To learn more, contact Phil Michaelson at phil at kartme.com or watch a short video.
###