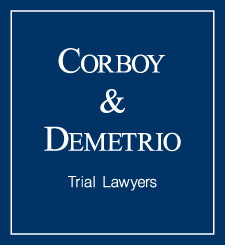 40 Illinois Attorneys Under Forty to Watch
Chicago, IL (Vocus) March 30, 2010
Michelle Kohut, a trial lawyer at Corboy & Demetrio, has been elected financial secretary of the Women's Bar Association of Illinois (WBAI). She will serve a one-year term. Previously, she served as treasurer, a member of the Board of Directors, and chair of various committees of the WBAI.
Michelle joined Corboy & Demetrio in 2004 and practices in all areas of personal injury law, including cases arising from automobile collisions, medical malpractice, construction negligence, premises liability, product liability and railroad negligence. She has tried many personal injury cases to verdict and has obtained numerous multi-million dollar settlements.
Community Involvement
In addition to serving as financial secretary for the WBAI, she is Chair of Wilpower, a political action committee, and President of the Board of Directors for Women Everywhere, Partners in Service, Inc., a volunteer collective in the Chicagoland area aimed at soliciting and coordinating volunteer activities on behalf of women and children in need.
Michelle has also served on the Board of Directors of Heartland International Health Center, an organization dedicated to improving the health of persons living in several communities of Chicago by providing affordable, quality, multilingual, and culturally competent health services.
She is also active in local and national bar associations, including the Chicago Bar Association, Illinois Trial Lawyers Association and American Association for Justice.
Honors and Awards
In recognition of her success, hard work and community involvement, Michelle was named in 2007 one of the "40 Illinois Attorneys Under Forty to Watch" by the Law Bulletin Publishing Company. Since 2008, she has been designated an Illinois Super Lawyer, "Rising Star."
A graduate of Loyola University Chicago School of Law, Michelle was a Judicial Law Clerk to the Honorable William D. Maddux, Presiding Judge of the Law Division of the Circuit Court of Cook County, prior to joining Corboy & Demetrio.
Women's Bar Association of Illinois
The WBAI's mission is to ensure the success of women attorneys through business and professional development and to advocate for women's interests. Located in downtown Chicago and founded in 1914, WBAI offers networking events, substantive law committees, and a judicial candidate evaluation program.
About Corboy & Demetrio
Corboy and Demetrio, a personal injury law firm, is one of the nation's premier law firms. It represents individuals and their families in serious personal injury and wrongful death cases and is renowned for its achievements in the courtroom and its contributions to the community. The firm has acquired more than $3 billion in settlements and verdicts, of which nearly 600 were in excess of $1 million.
###