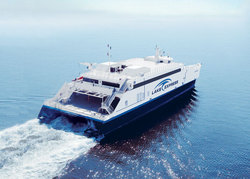 Milwaukee, WI (PRWEB) March 30, 2010
The Milwaukee-based Lake Express ferry is just weeks away from its season-opening cross-lake trip, yet the company is already hard at work prepping the ship to welcome motorcyclists who enjoy the time-saving shortcut. To make early season riding even more affordable this year, the company has announced a special motorcyclist-friendly offer in conjunction with the opening of 2010 reservations.
The new "Motorcycles Ride Free" deal allows bikers to ride both the roads and waves, all while watching their wallets. With this offer, passengers can bring their motorcycle onboard for no extra charge until June 30, for a total savings of $62.50 for a one-way trip and $100 for a roundtrip crossing.
Along with the Motorcycles Ride Free deal, Lake Express launched its new online reservation system, making it easier for customers to purchase and alter their reservations through the ferry's website,
http://www.lake-express.com.
The high-speed ferry has terminals in both Milwaukee and Muskegon, Mich., and accommodates 250 passengers and 46 vehicles during each trip across Lake Michigan. With multiple daily voyages each totaling two and one half hours, riders often choose the ferry as a convenient alternative for avoiding congested Chicago traffic and reducing travel time between Michigan and Wisconsin.
Motorcycle-friendly features include quick ride-on and ride-off loading, a modern vehicle deck designed to accommodate up to 120 motorcycles. Riders are provided tie-downs to help secure their motorcycles.
The Lake Express has long been a favorite route for motorcyclists who enjoy the Milwaukee home of Harley-Davidson and the Harley-Davidson Museum and the quick connection between Wisconsin and the scenic rides offered by Western Michigan, its coastal towns and natural settings.
Lake Express is an eco-friendly ferry and has been Travel Green Wisconsin certified since 2008. For more information on Lake Express, ticket prices or schedule details, call 1-866-914-1010 or visit http://www.lake-express.com.
About the Lake Express: The Milwaukee-based Lake Express ferry began service in 2004, and it is the Midwest's only high-speed auto/passenger ferry. With terminals in both Milwaukee, Wis. and Muskegon, Mich., Lake Express makes multiple daily trips across Lake Michigan, with each voyage totaling two and one-half hours.. As a fun, fast and easy transportation service, Lake Express has become the premier travel option to avoid lengthy, congested drives through Chicago, Ill.
###