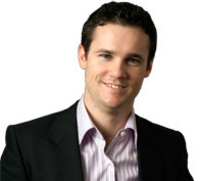 The thinking that has made us successful to date will not in the future and in many cases it will hinder us, says Peter Sheahan
San Francisco, CA (PRWEB) March 31, 2010
The Northern California HR Association (NCHRA) welcomes international phenomenon, Peter Sheahan to its Annual Conference—HR West® April 26-28, 2010 in South San Francisco. Voted Australia's Keynote Speaker of the Year, Peter is bound to inspire and delight. He is the author of Fl!p: How to Turn Everything You Know On Its Head and Succeed Beyond Your Wildest Imaginings and a globally recognized expert on Generation Y, workforce trends and innovative thinking.
As the largest West Coast gathering of the HR community, the HR West Annual Conference presents the opportunity for three days of unparalleled learning, exceptional networking and more than 60 educational sessions covering all facets of HR.
"The thinking that has made us successful to date will not in the future and in many cases it will hinder us," says Peter Sheahan. "The expectations of the talent we attract and the business leaders we partner with are changing rapidly and HR needs to keep pace." Emphasizing a new philosophy for HR leadership, Peter offers a counterintuitive approach to innovation and change, and inspires you to take the intelligent risks required to add new value as a profession in the future.
Additionally, while virtual networks are all the rage and present a tangible value—HR West offers something unique: a real network. People who know you. People who commiserate with you. People who celebrate with you. People who help you.
"Those kind of connections don't happen by accident," says Danika Davis, CEO and veteran HR practitioner. "Building a network of resources is a purposeful act. Being a resource is a purposeful act, at work, in your traditional community and in your professional association. Preparing yourself for an ever-changing world is a purposeful act. Creating a successful career is a purposeful act."
This year's event answers the question on every business professional's mind—how do organizations stay ahead in a recovering economy filled with new technology? From retaining top talent and facilitating tough conversations to creating super-flexible organizations and building a powerful employment brand, the stellar lineup of presenters provide solutions to address today's problems. Attendees will gain real strategies and techniques to improve the workplace immediately. Visit http://www.hrwest.org for more on the event.
About NCHRA
The Northern California HR Association has been advancing organizations through human resources since 1960. We are dedicated to connecting human resources professionals with practice resources, leading California-specific training, legal and legislative developments, quality service providers, and each other—forming career-long networks and partnerships.
Contact:
Amy S. Powers, Marketing & Communications Manager
Northern California HR Association
(415) 395-1941
http://www.nchra.org
###