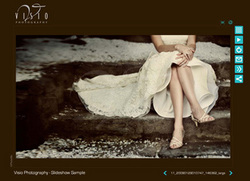 Client Viewing is a powerful new proofing tool that has been developed to complement and expand our online proofing and shopping cart features. There is no other viewing system in the industry with this level of technological sophistication.
Greensboro, NC (PRWEB) March 31, 2010
Client Viewing is the perfect solution for photographers and creative professionals. Whether they are looking to proof albums, private viewing galleries, or entire events for large groups; the PhotoBiz.com client viewing system provides that security and functionality to fit their needs.
The new Client Viewing System from PhotoBiz.com is packed full of features. Some of the most requested features are fully customized color schemes, multiple slideshow transitions, image color shifting, dynamic resizing, changeable font gallery, customizable labels/messages, customizable external links, multi-lingual ready, deep linking to a slideshow or a shopping cart category and social networking sharing integration. There is no other viewing system in the industry with this level of technological sophistication.
Client Viewing has been packed full of functionality designed for creative professionals.
The Favorites Tool: While viewing in thumbnail view, the photographer's clients can go through and select their favorite images by simply clicking on the heart icon that is displayed over each image.
Powerful Proofing: Individual image comments allow for the photographer to gather editing requests, update the image, and replace it online; all while retaining comment history. Images can be organized, sent to social networks like facebook and twitter, emailed, set on slideshow; and can be customized by the administrative user. It is a built in communication tool which will save time.
Dual Login (Client & Guest's of Client) allow the photographer to give full access with comment and favorite capabilities to their clients, while family and friends can still view the photos through a high impact presentation.
An innovative album proofing feature allows PhotoBiz.com customer's clients to "Approve" all of their favorites that they have selected. This is a perfect solution for album proofing.
PhotoBiz.com always takes feedback and often implements updates through our innovative cloud computing system, so click here for an always up to date list of features.
Passionate Support : Guaranteed Satisfaction!
For more information about PhotoBiz.com, or to get started using the new Client Viewing System, visit http://www.PhotoBiz.com or visit us on Facebook at http://www.photobizfanclub.com.
###