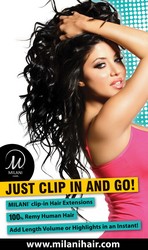 Milani Hair is a line of premium, 100% organic clip-in human hair extensions that are affordable and completely do-it-yourself.
Newport Beach, CA (PRWEB) March 31, 2010
Planet Beauty is now a 29 store retail chain of beauty boutiques throughout California providing a unique selection of skincare and hair care products as well as salon services to meet every beauty need, while ensuring excellent customer service through product knowledge and hands on training for all its dedicated employees.
Since the first store opened in 1992, Planet Beauty boutiques have drawn a cult following of gorgeously groomed shoppers as well as numerous celebrities including Jessica Simpson, Hilary Duff, Megan Fox, Mena Suvari, Miley Cyrus, Steve Carell and more.
Planet Beauty carries premium brands including Bliss, L'Occitane, StriVectin N.V. Perricone, Sonya Dakar, ID Bare Escentuals, Colorescience, Frederic Fekkai, Pureology, T3 and now MILANI HAIR EXTENSIONS--a premium line of 100% organic "clip-in" human hair extensions founded by actress and former Deal or No Deal model (Lucky 13), Leyla Milani who became famous for her big, wild hair on the show. Milani states, "Although I was fortunate enough to be born with pretty good hair, after more than 200 shows on Deal or No Deal, all those hot tools and styling products really started to take a toll on my once healthy hair. I did not want to turn to the super-damaging and ultra expensive salon hair extensions and I just couldn't find high quality, yet affordable clip-in options. Most clip-in hair extensions currently on the market are either synthetic hair which look cheap and cannot be heat-styled or super-pricey human hair which most can't afford. That's when I decided to create my own line of affordable and completely do-it-yourself human hair clip-in extensions to give woman of all ages that beautiful bombshell hair we all desire."
Compared to traditional salon hair extensions that cost thousands and damage the hair and scalp, Milani clip-in hair extensions are low maintenance and commitment-free; so you can just clip them in and take them out whenever and wherever.
Planet Beauty is proud to to collaborate with Milani Hair and hopes to establish a long relationship with the brand.
To learn more about both companies visit: http://www.milanihair.com and http://www.PlanetBeauty.com.
###