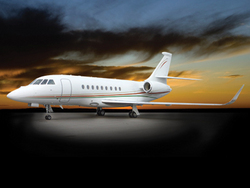 Los Angeles, CA (PRWEB) March 31, 2010
TWC Aviation, Inc., a worldwide leader in private jet charter, today announced the addition of a ten-passenger Dassault Falcon 2000LX to the company's managed fleet. This is the West Coast's first Falcon 2000LX available for charter. With its High-Mach Blended Winglets, the Falcon 2000LX has a range of 4,000 nautical miles at Mach .80, and is up to 40 percent more fuel efficient than other jets in its class. It is ideal for charter journeys such as Los Angeles to Tahiti, Dubai to Brussels, São Paulo to Miami, or Chicago to London.
This technically advanced jet offers the latest safety features, such as Honeywell EASy avionics and Enhanced Vision Systems. Inside, passengers will enjoy one of the quietest cabins of any large business jet. Upholstered in rich Buttermilk leather, the luxurious club seating is complemented by rare Pommele Bubinga wood veneers. The innovative layout sleeps three in perfect comfort, while leaving sitting room for four other passengers. The long list of amenities includes a state-of-the-art entertainment system, WiFi, satellite voice and data communications, and a fully equipped galley.
As with all the jets in TWC Aviation's air charter fleet, this Falcon 2000LX is maintained to FAA standards by the company's in-house experts.
About TWC Aviation, Inc.
Headquartered in Los Angeles at Van Nuys Airport (KVNY), TWC Aviation, Inc. is a privately-owned, independent company that provides aircraft management, aircraft sales and acquisitions, worldwide jet charter, and aircraft maintenance services. TWC Aviation is audited and certified to the International Standard for Business Aircraft Operations (IS-BAO) by the independent, nonprofit International Business Aviation Council, and is also certified by Wyvern Consulting and ARG/US. The company's international charter fleet includes jets from Bombardier, Dassault, Cessna, Embraer, Gulfstream, and Hawker Beechcraft. Additional information is available online at http://www.twcaviation.com.
###