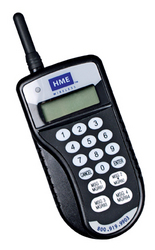 TableScout® has taken the guesswork out of managing the dining room...our table turns are faster, and our guests have never been more satisfied.
Atlanta, GA (PRWEB) March 31, 2010
Claim Jumper Restaurants, LLC, a leader in the food service industry, has deployed HME Wireless' TableScout® restaurant table management technology, to improve its table turns and customer service.
Using HME Wireless' handheld wireless transmitter, TableScout, allows Claim Jumper management, host and bus staff to easily update each other, and the restaurant's table management systems, with current seating status. Updates such as 'check paid,' 'table cleared,' and 'table bussed' are sent to the hostess station immediately, eliminating time-consuming trips around the restaurant with a scratch pad, and the need for pen and paper table management. Tables turn quicker, wait-times are shorter, more guests are served improving the overall guest experience.
"Although paper and grease pencil worked in the past, the TableScout® has taken the guesswork out of managing the dining room," says Kevin Thompson, Systems Administrator for Claim Jumper. "Previously, we had to estimate the status of tables, or wait for the floor staff to check in with the hostess, which meant longer waits for customers. Now that we have real time information to work with, our table turns are faster, and our guests have never been more satisfied."
Claim Jumper has integrated TableScout into their QSR Table Management solution. TableScout, along with GuestCall IQ and Motorola 2-Way Radios, completes a total restaurant communication system. Improving "Speed of Service" is a key process within the restaurant industry. These tools don't change the way restaurants operate but simply automate a process that was manual in the past.
"This automation allows front line staff such as the host or hostess to focus on the guests and not on wait-times, table status or where guests are in the queue," stated Russ Ford, Vice President of HME Wireless. "Using technology to gain operational efficiencies is the key to greater profitability in these challenging times. Using TableScout adds a great deal of value for very little cost at the unit level" said Ford.
For more info on TableScout table management technology or other onsite paging solutions, please call (866) 611-4202 or visit us at http://www.hmewireless.com.
To learn more about Claim Jumper, please click or copy and paste the following URL into your web browser: http://www.claimjumper.com/our_story.aspx
About HME Wireless
HME Wireless, Inc. offers quality electronic solutions to a variety of businesses like Claim Jumper Restaurants that increase efficiency, productivity and customer satisfaction. An industry leader, HME Wireless (formerly NTN Wireless) offers a complete line of reliable onsite messaging solutions to improve efficiency and customer service for a variety of businesses worldwide. In fact, restaurants, hospitals, church nurseries, salons and retail businesses are just a few that have been using our systems to increase sales, productivity and customer satisfaction. HME Wireless is a subsidiary of HME Inc., an innovative technology company serving over 60,000 customers worldwide. Founded in 1971, HME helps businesses in the restaurant and professional audio markets enhance productivity and customer service with the most cutting-edge and customer-driven technologies.
Product photos available upon request.
Contact
Lourdes Castro
HME Marketing Coordinator
Phone: (858) 646-8818
###