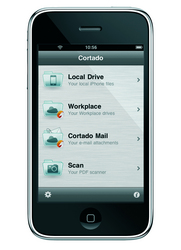 Denver, CO (Vocus) March 30, 2010
The free iPhone business app, Cortado Workplace, available since March 1, 2010, now includes a free update with an expanded range of functions. The new version comes with 1 GB of online storage space, cloud printing functions, and the ability to scan and copy documents.
The enhanced version allows iPhone users to scan documents using the iPhone camera and automatically converts the images into a PDF file. The file can then be saved to the online storage space, sent as an e-mail, or printed on a local or network printer. Now iPhone users can make copies of documents and print to any available printer on the network with Wi-Fi connection.
More information is available at http://www.cortado.com/wp-iphone
The Cortado Workplace solution is available in the Apple AppStore: http://store.apple.com
Additionally, Cortado offers Cortado Corporate Server for businesses wishing to configure the cloud printing service in a firewall-protected cloud. The cross-platform software solution, including iPhone support, will be released shortly. It delivers printing and scanning functions, access to the corporate network, fax and e-mail functions, and creates PDFs.
More information is available at http://www.cortado.com/enterprise
This press release and the press photo are available online and can be downloaded at: http://www.cortado.com/press
Cortado. A Division of ThinPrint AG
Cortado, as an independently acting division, combines the total mobile computing competence of ThinPrint AG and offers one-stop mobile business software solutions and professional hosting services for all of today's mobile demands. The services on offer encompass the entire range from Hosted Exchange and professional e-mail and PIM services with innovative push mail capability to the truly unique Cortado Enterprise Solutions and Premium Services, which turn your mobile device into a fully-fledged workstation. Cortado products, both in-house solutions and hosted premium services, allow you to manage documents and flexibly send them to all established mobile platforms. Security-certified hosting centers in Germany, the USA, and the Pacific region guarantee high availability and security for all hosted Cortado services. Along with its free-of-charge services under Cortado Free, Cortado offers mobile freedom and increases productivity for consumers, prosumers, and companies. Our goal is to provide complete mobility and independence from location-bound workplaces and computer-based communication methods. With the extensive experience of ThinPrint AG and its international presence with offices in the USA and Australia, Cortado operates globally. As a Microsoft Gold Certified Partner, Nokia Forum Pro member, and member of the BlackBerry Alliance Program, as well as working closely with over 20 carriers worldwide, including T-Mobile, Vodafone, Telefonica, Orange, Hutchison 3G, Cingular and Verizon, Cortado is the competent and professional partner and service provider for meeting the demands of mobile business and private users. A global partner network supports the international availability of Cortado offerings.
Media Contact:
Kendra Westerkamp
303-752-3552 x233
tp(at)visitechpr(dot)com
###