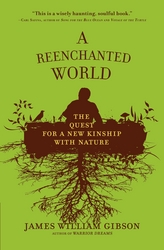 "A fast-paced and highly rewarding account of the struggle to realize a deeper consciousness of the human relationship with nature—before it is too late." James Gustave Speth, author
Portland, OR (PRWEB) March 30, 2010
As the world prepares to reflect upon 40 years of environmental advocacy and policy since the formation of Earth Day, A Reenchanted World: The Quest for a New Kinship with Nature, by author/professor/sociologist James William Gibson, arrives at the perfect time. The non-fiction book, released in paperback today (Holt Paperbacks; $16), is an eminently-readable and thoroughly-researched page turner that provides a political, cultural, ecological and spiritual accounting of the environmental movement's triumphs and setbacks from inception to the present day.
The book offers hope for a resurgence of "a culture of enchantment" that has "… helped (people) empathize with animals, made them want to see lands and oceans preserved. It has opened people's imaginations, and in doing so it has changed the political climate." These ideas culminate in Part III, "Hope Renewed," where the book cites recent political victories alongside the rise of human-nature connections popularized in the success of movies like Free Willy (and, post-publishing, Avatar).
A Reenchanted World is available through major U.S. bookstores and online retailers, including Amazon.com, Barnes & Noble and Borders. The release follows the lauded debut of the hardback version on April 14, 2009 (Metropolitan Books/Henry Holt and Company). (See select review excerpts on page two of this press release)
Media Resources
To request a review copy of the book or to schedule an interview, personal appearance or op-ed with the author, contact 503.750.9041. High-resolution cover art and headshots are available. Potential News Angles:

Leading up to Earth Day's 40th Anniversary (April 22, 2010), the environmental movement will be under great scrutiny and discussion. A Reenchanted World provides an exhaustive historical narrative, with citable references; Mr. Gibson is available to share expert opinion in the form of quotes, op-ed pieces and broadcast appearances.
Events such as the recent National Wildlife Week (March 15 – 21) underscore man's care for, and desired reunion with, the animal world (for related topics, see A Reenchanted World, Part I, Chapter 2: "Animals Who Speak To Us").
The Bush administration's and Religious Right's eight-year attack on protective environmental policy was in many ways successful…but major environmental organizations secured major victories. Gibson spells out the untold story of how the environmental movement successfully stopped the juggernaut in Congress.
The Obama administration, praised for its early reversals of "W-era" anti-environmental policies, has recently come under fire due to moves signaling support of nuclear power, "clean coal" and offshore drilling for oil. What will the impact be of the President's perceived reversal in loyalties with an increasingly "reenchanted" supporter base?
Mainstream religious groups are moving away from viewing nature as simply raw resources at the service of man, and increasingly coming to promote earth stewardship and green practices. Some recent campaigns among evangelicals include, "What Would Jesus Drive?" and "For the Health of the Nation: An Evangelical Call to Civic Responsibility." Gibson explores how previously "radical" ideas in the religious community have gained acceptance.
Ecotourism and other efforts to "get back to nature" have had seriously negative side effects on our ecology, including wilderness destruction and an increase in home-destroying forest fires. Gibson helps us understand the contradiction of "loving nature to death."
Select Reviews
"A fast-paced and highly rewarding account of the struggle to realize a deeper consciousness of the human relationship with nature—before it is too late." –James Gustave Speth, author of The Bridge at the Edge of the World: Capitalism, the Environment, and Crossing from Crisis to Sustainability
"A hopeful account . . . A Reenchanted World catalogues the myriad signs of a widespread revolt against the tradition of human dominion over nature."—The New Republic
"In his new book "A Reenchanted World," sociologist James William Gibson identifies a growing social movement, arguing that human connections with the earth are the last hope to save an environment at risk of permanently disappearing." – Newsweek
Read more reviews of A Reenchanted World: The Quest for a New Kinship with Nature
"Fan" Reenchanted on Facebook
Follow James William Gibson on Twitter
About the Author
James William Gibson is a professor of sociology at California State University, Long Beach, and is a Faculty Fellow at the Yale Center for Cultural Sociology. He is the recipient of fellowships from the John D. and Catherine T. MacArthur Foundation and the Harry Frank Guggenheim Foundation. Gibson's previous books include Warrior Dreams: Paramilitary Culture in Post-Vietnam America (1994) and The Perfect War: Technowar in Vietnam (1986). He is a frequent contributor to the Los Angeles Times op-ed page and has written for Earth Island Journal, In These Times, The Nation, Harpers and The Washington Post. Gibson lives in Los Angeles and turned from the study of war to our evolving cultural reenchantment of nature in the course of a ten-year struggle to rescue the Ballona Wetlands (the last 1000 acres of open space in the entire Los Angeles basin floor) from development. In 2006, The Ballona Institute named Gibson a "Journalist of Courage" for his work in helping save some 600 acres of the land from the encroaching Playa Vista development.
###