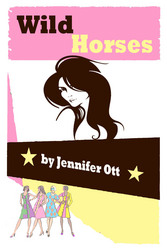 "Ms.Ott has an unique spin on how we get to the winner's circle in our race toward love. Is there a difference in the way men and women win, place and show on the track to the winner's circle? Read it and find out."
Hillsboro, OR (PRWEB) April 1, 2010
In her hilarious and diabolically funny new book, Wild Horses – a dark comedy that compares dating to horse racing, author Jennifer Ott describes a world where women train to compete for love and men keep score.
Wild Horses!
By Jennifer Ott
List Price $15.00
Soft cover US trade
ISBN978-0-557-32803-1
For more information visit http://www.jenniferott.com.
About Jennifer Ott
Jennifer Ott's writing career began years ago and has been supported by her job in the fashion industry. During that time she has written countless screenplays. Two of her screenplays, The Tourist and Truth and Craziness were previous semi-finalist at the Austin Screenwriting competition. And her short script, Space Trash was a 2006 quarterfinalist Write Brothers contest.
In 2009 she published her first book Ooh Baby Compound Me, a non-fiction satire that compares credit card companies to fraternity hazing. The book is a testimony to years of sacrifice trying to fulfill dreams while maintaining a swinging lifestyle in the fashion world. It came at a price, and for Jennifer Ott, the price was credit card debt.
Shortly after the publication of Wild Horses, Jennifer Ott published her third book, a short quirky novel, Edge of Civilization about displaced Vietnam Vet and his odyssey in the search for civilization through the Nevada desert and Las Vegas.
Contact Jennifer at Jennifer(at)Jenniferott(dot)com
# # #