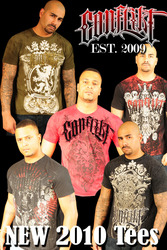 "#1 Fight Wear In The Biz"
Upland, CA (PRWEB) March 30, 2010
There is excitement that is building up as Conflikt Clothing launches their new 2010 line. The line consists of new stylish designs and washes on their shirts. One can't help but to admire these quality fashion tees.
As the MMA world continues to blow up there is a huge market for these types of shirts. Conflikt Clothing is one of the fastest growing clothing companies that not only caters to the MMA fans but also Boxing fans.
Conflikt Clothing is based out of Southern California and continues to draw a large audience with their affordable yet high quality products. As new online retailers catch wind of this brand, many are on the waiting list to carry the brand, as are several east coast stores.
For more info on this brand visit http://www.confliktclothing.com
###