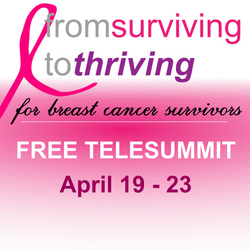 Statistically, 98 percent of women diagnosed with cancer confined to the breast are alive five years later. But the 'Missing Link' in the health care system is the lack of post treatment support.
Ossining, NY (PRWEB) March 31, 2010
Rochelle Togo-Figa's big dream is to bring together women who have had breast cancer to inspire them to transform their experience into something great. Her first foray into changing lives launches this month. "From Surviving to Thriving" a national tele-summit inviting all breast cancer survivors to learn how to be a "Breast Cancer Thriver" will include inspiring stories from ten women located all over the country.
Togo-Figa is offering a week of free advice through "From Surviving to Thriving" a free telephone event she hopes all survivors will tune in to hear tips and techniques from real women who turned their life around after surviving breast cancer.
Sixteen years after her own breast cancer diagnosis, a new husband, a successful company and living the life of her dreams, Togo-Figa is ready to give back to other women. Her new program, Your Life After Breast Cancer, trains women how to thrive with the tools, techniques and tips perfected in the training world and applied to personal struggles in a way to design an exceptional life post breast cancer.
She explains why this first event is so important in the pink ribbon saturated breast cancer movement: "A breast cancer diagnosis changes your life," said Togo-Figa, "statistically, 98 percent of women diagnosed with cancer confined to the breast are alive five years later. But the 'Missing Link' in the health care system is the lack of post treatment support. After a patient ends treatment and returns to her normal life there is very little encouragement to make personal life changes to truly go after your dreams and thrive in work and life."
Date: April 19 - 23 (each night)
Time: 8pm EST
Location: National
Cost: FREE
To register: Click Here to Register
Speakers Include:
Donna Deegan is a well-known journalist, philanthropist, and marathoner. As a three time breast cancer survivor she is the founder and president of The Donna Foundation. Deegan is an evening news anchor for First Coast News, Gannett Broadcasting's NBC and ABC affiliate stations in Jacksonville Florida. She lives with her husband and children in Jacksonville Beach.
Gina Andrews was diagnosed with breast cancer in 2005 at 31 years old, six days after delivering her child. Currently, Andrews strives to promote early breast cancer detection, bring awareness to young women, and raise funds through her apparel line to donate to charities that provide breast cancer services through her new company, SaveRBoobies.
Jenny Saldaña. A playwright, Jenny hadn't found a muse to write about in years until she heard 'you have cancer' and PINK: The Chronicles of BC Jenny was born. Jenny now tours colleges with PINK to share her inspiring and funny story of a young Latina with breast cancer. Jenny is currently working on a memoir/self help book for young cancer survivors.
Hayley Townley is a Real Estate Broker by trade. Hayley created a website for breast cancer survivors and their loved ones to show there is, indeed, life after breast cancer. The success of the website has prompted a book series, which will be on bookshelves in 2011. She is a spokesmodel for Cleavage Creek Cellars, a winery that donates 10% of gross profits to breast cancer research.
Andrea Raynor a graduate of Harvard Divinity School, is a United Methodist minister, a chaplain, and a cancer survivor. In the aftermath of September 11th, she served as a chaplain to the morgue at Ground Zero, offering blessings over remains and support to the many workers there. Her new book, The Voice That Calls You Home, a collection of essays from her life experiences, was recently published by Atria Books, a division of Simon and Schuster.
Jamie Eslinger was diagnosed with Hodgkin's Disease at age 17. Less than a month later her mother "Mama Sling" was diagnosed with breast cancer. Jamie and her mother battled to overcome cancer together. Today, Jamie is the founder of MarketingTiara.com and serves as a Board Member of the Massachusetts Affiliate of Susan G. Komen for the Cure.
Amelia Frahm is author of the award winning children's picture book, Tickles Tabitha's Cancer-tankerous Mommy, creator of Crack Open a Book! Cancer Education Programs, and owner of the Nutcracker Publishing Company.
Patricia Royall, a two year breast cancer survivor is the founder of Jazzy Johnnys TM, a line of patient wear that is dignified, stylish, and comfortable, all the while being practical to its intended hospital purpose.
Anne Best is the founder and CEO of the Nashville based DryDreams Sleepwear, which manufactures and distributes a unique line of sleepwear intended to help combat the effects of night sweats.
Daily Event Highlights:
Day One: Finding Your Life Purpose
Day Two: Following Your Passion
Day Three: Finding Your Voice
Day Four: Being Unstoppable in the Face of Adversity
Day Five: Turning Breast Cancer into a Gift
About Rochelle Togo-Figa
Rochelle Togo-Figa is leading a movement for Breast Cancer Thrivers. The creator of the From Surviving to Thriving Tele-summit and founder of Your Life After Breast Cancer. She is currently writing a book, Your Life after Breast Cancer. She is also a speaker reaching out to women speaking on personal growth and motivational topics.
About Your Life After Breast Cancer
Your Life After Breast Cancer helps breast cancer survivors learn how to reevaluate every part of their "new" life post breast cancer: relationships, family, career, health, and how to deal with stress, self care, and leave a legacy. It is perfect for women who desire personalized guidance and support that only a coach who has gone through the same experience understands. Women who desire a coach to show the steps to take to begin living your life purpose through: Private and Group Coaching Programs, Tele-classes, Events and Free Resources. Contact to receive your free report 8 Life Lessons to Thriving in Your Life.
More Information at:
http://yourlifeafterbreastcancer.com/blog/surviving-to-thriving-telesummit/
###