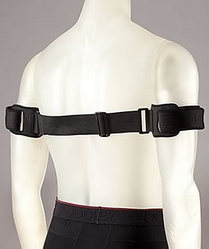 "If I were being watched by 24 million people every week, I'd definitely invest thirty dollars in a posture corrector," said Mike Lane, PostureNOW co-inventor
Portland, OR (PRWEB) March 30, 2010
Within minutes of Chad and Cheryl's performance on last night's episode of Dancing With The Stars, the blogosphere was abuzz with comments about Chad Ochocinco's poor posture.
Chad's poor posture drew fire from Len Goodman, resulting in a low score and drawing criticism from tweeters nationwide. But Ochocinco wasn't alone: Even Pamela Anderson was told by Len to work on her posture. Apparently nobody is immune from the bad posture epidemic, not even professional athletes and Hollywood actresses.
"We're always amazed that stars whose livelihoods depend on looking good don't take steps to improve their posture," said Mike Lane, co-inventor of the PostureNOW posture brace. "If I were being watched by 24 million people every week, I'd definitely invest thirty dollars in a posture corrector."
Could a Posture Brace have helped?
"There are a few ways to address one's poor posture, but most require difficult exercises or confining, uncomfortable contraptions. This lead us to the development of PostureNOW," said Matt Franklin, co-inventor of the PostureNOW posture corrective brace. "PostureNOW is a simple way to improve your posture and could have really helped both Chad and Pam this week."
Posture is body language. Research shows that people with good posture appear more confident and attractive than those with poor posture. Further, good posture can make people look 10 lbs lighter and up to two inches taller. Some of the health benefits of good posture include improved respiration, better organ function, and significantly increased energy.
Unlike traditional posture corrective braces that are worn over the shoulders and can cause pinching and chafing, PostureNOW is worn on the upper arms. A flexible tension band across the wearer's back uses passive resistance to provide a gentle reminder to pull shoulders back. This not only eliminates unsightly slouching and hunching, but also trains and strengthens back muscles vital for good posture.
"Whether you're an athlete, an actress, an engineer or a housewife, good posture is important. We look forward to seeing Chad and Pam dance next week, but hopefully they'll give us a call before then," said Mike Lane.
About PostureNOW
PostureNOW is the only posture brace that is worn on the arms, rather than over the shoulders. PostureNOW uses soft, adjustable Neoprene armbands to gently pull the shoulders back, which reminds the wearer to remain in correct posture. PostureNOW is a quick and easy way to improve posture in as little as ten minutes a day.
###