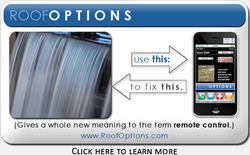 RoofOptions.com works with everyone from Siemens, Sonoco, and Bosch, to the local tool & die company on the block.
Woodstock, IL (PRWEB) March 31, 2010
Commercial roof replacement is the single largest capital expense that building owners will have to face. In today's economy it is critical that businesses get the most out of every dollar they spend. RoofOptions.com has leveraged today's technology in order to give building owners the ability to create competitive bid environments in order to drive down costs.
RoofOptions solutions begin with an inspection of a facility's existing roof system. Utilizing digital technology, an online roof report is generated. The online roof report uses digital videos, photos, scaled drawings and much more. It details the roof composition and the condition of the current roof system. These reports are sophisticated enough for the highest level roofing expert, and yet simple enough for a building owner to clearly understand.
After an online report is compiled, a RoofOptions representative will then review the report with the building owner and discuss various roof system options that are available. Once a roof strategy is selected, the online report becomes a comprehensive online bid document. RoofOptions immediately begins inviting contractors to the online bid platform to begin to submit pricing. Within about a 10 day period of time, RoofOptions is able to deliver 5-10 "apples to apples" bids. RoofOptions has not only been consistently saving companies 10% - 20% by utilizing this online absolute bid environment, but has also eliminated the need for building owners to have to deal with all of the follow up sales calls that come along with replacing a roof.
When it comes time to begin, RoofOptions provides alternatives to the best way to mobilize the project. From the "Do It Yourself" option in which the building owner negotiates and awards the project on the site, to the affordable "Professional Assistance" option that allows a company to utilize the OPM (online project monitoring) feature to supervise production of the project, to the "Downright Delegated" option where RoofOptions handles all the aspects of the project including negotiations, production, and close-out.
RoofOptions provides "Fanatical Customer Service" in all aspects of their business. Jeff Broderick, Director of Marketing for RoofOptions, stated:
"Fanatical Customer Service isn't just something we offer, it's really what makes us who we are. It's the desire to do more than our clients expect us to do. It's our need to make a difference in the challenges our clients face - no matter how big or small. We have found that when it comes to customer service, a little fanaticism goes a long way."
For more information visit http://www.RoofOptions.com
###