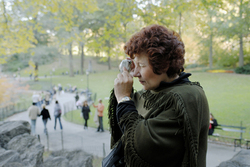 a wonderful tour and fabulous way to see Central Park. (Lora) offered us some great photo taking tips and photo ideas. I was really pleased with my photos
New York, NY (PRWEB) March 31, 2010 –
Photo Walk-abouts, a unique walking tour company in New York City that focuses on teaching the participants to take better photos, will celebrate its second-year anniversary this spring.
New York City provides the perfect opportunity for interesting photos, yet often people have little understanding of how to capture the best shots. Photo Walk-abouts combines a traditional New York City walking tour with tips for taking better photos. The photo tours also help participants to learn to better use their camera if they desire.
All tours start with a brief lesson on photography complete with visual elements. At various points along the tour, participants are given the opportunity to explore an area with their cameras and to use their newfound knowledge. Historical commentary is also provided so participants have an understanding of the history of the area that they are photographing.
Founder and licensed tour guide Lora Danley started Photo Walk-abouts to combine her two passions of photography and teaching in order to help the participants learn to take better photographs. An experienced photographer, she previously taught photography at the Arlington County Recreation Center in Arlington, Virginia. She has exhibited her work nationally and her work resides in collections of the National Cathedral of Washington DC and Northern Virginia Community College as well as numerous private collections.
The photography tours are a great hands-on learning experience and have been consistently highly ranked on Trip Advisor since their inception. Danley says that she's had guests from all over the world including those from New York City who want to gain insight on better use of their camera. Tours are appropriate for all levels of photographers from those with little experience to those with advanced knowledge. Danley says a fancy camera isn't necessary and even a disposable camera or two will do. She adds that some have taken the tours without a camera and simply have enjoyed the history and the extra time to explore an area for a bit on their own.
For those from outside the New York City area, Danley strives to use her extensive knowledge of the city to recommend other activities that the participants might enjoy, such as photography exhibits around the city, interesting restaurants and places for discount theater tickets.
Currently tours of Central Park, Greenwich Village, and the Financial District are available. Each tour is approximately two and a half hours long. Private and group tours can be booked as well. Advance reservations are recommended and a detailed calendar on the Photo Walk-abouts website gives available dates.
Jackie who currently resides in New York City took the Central Park tour and raved that it was "a wonderful tour and fabulous way to see Central Park. (Lora) offered us some great photo taking tips and photo ideas. I was really pleased with my photos."
Frank came from Tennessee with his family and friends and took a private tour of the Financial District. A native New Yorker, he commented "I learned more about New York in the 90 minutes with Lora than in the fifty years of living there. I would highly recommend this tour for anyone visiting the New York Area".
Danley says that she hopes to expand this unique service to offer photo tours of other New York City neighborhoods. For more information about Photo Walk-abouts or to book a New York City photo walking tour, please visit http://www.photowalkabouts.com.
###