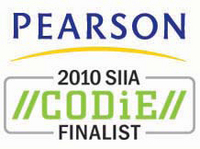 We are honored that Pearson's Mastering program has been recognized as a finalist in the 2010 CODiE Awards for its data-driven, adaptive approach to personalized learning that has proven so successful at improving student performance
Boston, MA (PRWEB) March 31, 2010
Pearson, the global leader in education, technology and services, today announced that its Mastering platform, a suite of innovative, online homework and tutorial programs for the sciences, has been selected as a finalist in the 2010 Software & Information Industry Association's (SIIA) CODiE Awards.
Established in 1986, the CODiE Awards celebrate outstanding achievement across the software, digital information and education technology industries. Nominated products underwent an intensive review by subject matter experts, analysts, journalists and others with deep expertise in education technology.
Pearson's Mastering programs personalize science learning with tutorials that provide immediate feedback and targeted help where and when students need it the most. Students learn at their own pace, in their own style, while educators are able to monitor progress and communicate with their students online to keep them engaged and accountable for their work.
Thousands of colleges and universities are using the Mastering programs to improve student performance. For example, research shows that students using MasteringPhysics make 15 percent fewer errors and solve problems 15 percent faster, while students using MasteringChemistry have increased their exam scores by 12 percent.
"We are honored that Pearson's Mastering program has been recognized as a finalist in the 2010 CODiE Awards for its data-driven, adaptive approach to personalized learning that has proven so successful at improving student performance," said Jim Behnke, Chief Learning Officer at Pearson.
Pearson has 13 finalists in the CODiE Awards this year, leading the prestigious competition. Pearson's innovative education technology solutions for schools, colleges and universities are recognized across the award program's education categories, honoring the company's worldwide leadership in harnessing technology to personalize and improve learning. Pearson's 13 finalists were chosen from more than 327 education nominations submitted by 124 companies.
In addition to Mastering, the company's products moving on to the next round of competition in the CODiE Awards are CourseConnect™, LearningStudio, MathXL® for School, MyCourse, MyMathLab, MyWritingLab, myWorld Geography™, Miller & Levine Biology™ Digital Path, Prentice Hall Literature Online (PHLitOnline) and PowerSchool.
In the next step of the CODiE Awards process, Pearson's Mastering platform will be voted on by the entire SIIA membership to determine the winners in each category. The 2010 CODiE Awards will be announced at the 2010 Ed Tech Industry Summit in San Francisco on May 24.
For more information about Mastering, visit http://www.pearsonhighered/mastering.
About Pearson
Pearson has global-reach and market leading businesses in education, business information, and consumer publishing (NYSE: PSO).
# # #