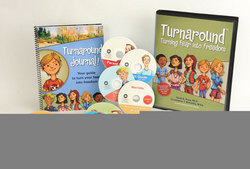 Charlotte, NC (Vocus) March 31, 2010
Informed Therapy Resources (ITR) launches their new website, MyAnxiousChild.com, featuring Turnaround: Turning Fear Into Freedom. The new website is just as captivating and creative as the Turnaround program itself. The beautiful design provides both visual appeal and clear, easy to use navigation. Designed by Dwayne Cogdill (stdwaynedesign.com) with illustrations by C.B. Canga (cbcangaart.blogspot.com), the website and products reflect the work of highly skilled and experienced craftsmen.
The Home page features 3 audio clips that give the visitor a taste of the Turnaround program, a summary of what a child will experience while listening to it, the benefits of Turnaround, personal testimonies, and a personal testimony from co-creator and Psychologist, Dr. David Russ. Dr. Russ shares how his child struggled from panic attacks and his frustrated attempts to find good materials to help her. His personal experience inspired him to create Turnaround: Turning Fear Into Freedom so that anxious children could have a professionally developed resource which addresses them directly in a fun yet clinically effective manner. ITR is co-owned by Psychologist Dr. David Russ and Licensed Professional Counselor Christopher McCarthy, two clinicians with over 30 years experience in treating mental health disorders. Together they created Turnaround: Turning Fear Into Freedom.
Audio Clips- A two-minute audio clip at the top of the Home page summarizes the benefits of Turnaround, while the extended audio sample found on the bottom right explains the features of Turnaround in more detail. This audio clip highlights a few of the animated characters found in Turnaround, including "Krank", the crazy, hyper, Samurai warrior who personifies the anxious feelings a child experiences when scared , "Chill", the laid-back surfer dude who represents how kids calm down, "Doliver", a whimsical but insightful mountain man who imparts helpful wisdom to the adventurers, and "Kerplop", a talking Beaver who struggles with negative thoughts just like anxious kids. Fourteen child actors and six adult actors were used in the production of this unparalleled resource for anxious and depressed children. The third audio clip features Day 2 of the program in which the children discuss the creative names they gave their fears then completing the exercises in the Turnaround Journal. Little do the kids know that they are utilizing a therapeutic technique called externalizing one's fear, an effective technique that helps kids conquer anxiety. This is the beauty of Turnaround! The kids learn clinically effective strategies to combat fear without even knowing it. They're just having fun!
Additional Resources- Guest of the website can also view sample pages from the Turnaround Journal, a 74-page creative workbook that the child complete exercises in after each lesson. Turnaround doesn't forget parents, a vital resource for children in overcoming an anxiety disorder. The program includes 3 CDs packed full of information that parents need to know to effectively assist their anxious child. Sample audio clips for the 2 CD Parent Guide and the single disc, Med FAQs are provided for prospective buyers to sample.
Turnaround is based upon cognitive-behavioral therapy, which has shown conclusive results in the treatment of anxiety and depression disorders. The program invites the listening child to join six other anxious children on an imagined 10-day hiking trip with two "Docs" and a mentor teen named Emily. These children struggle with anxiety disorders such as Generalized Anxiety Disorder, Panic Attacks, Perfectionism, Obsessive Compulsive Disorder (OCD), Separation Anxiety Disorder, Social Phobia, and school-based fears. Emily acts as the narrator and guide while Dr. David and Dr. Chris lead the children though each day's adventurous lesson. The children meet imaginary characters and hear testimony from many other children about how they learned to conquer their fears and anxieties.
The Turnaround Audio Program includes:
Turnaround Program for kids (10 CDs)
Turnaround Journal, a 74 page workbook for kids
Chill Kit, relaxation guide for kids (1 CD)
Parent Guide, packed full of helpful information and techniques to help parents (2 CDs)
A BONUS CD titled Med FAQs in also included. Med FAQs is an interview with nationally recognized Neuropsychiatrist, Dr. James Lee, offering a comprehensive discussion on the medications used to treat child anxiety is also included.
For additional information on the news that is the subject of this release or for a demo, contact us at info(at)myanxiouschild(dot)com or call ITR at (704) 208-4304 or (704) 293-2994 Please visit http://www.myanxiouschild.com to learn more about Turnaround: Turning Fear Into Freedom.
About Informed Therapy Resources (ITR):
Informed Therapy Resources (ITR) is dedicated to creating mental health treatment programs that are scientifically based, proven clinically effective, and professionally developed- using creative, eye-catching audio visual materials.
David Russ, PhD, Psychologist
Dr. David A. Russ is President and a Licensed Practicing Psychologist of Carolinas Counseling Group in Charlotte, NC. He and his partners have built a busy practice with 11 clinicians. His doctoral dissertation was original research about a novel treatment for anxiety. He is co-author of the book, "More Than Me," published by NavPress. Dr. Russ has been an adjunct or visiting professor for four different graduate counseling programs. He has been continuously providing care for over 20 years. He has been happily married since 1983
Christopher T. McCarthy, MEd, Licensed Professional Counselor
Christopher McCarthy, MEd, is a Licensed Professional Counselor who specializes in treating child anxiety disorders, teen behavioral issues, parent-child relationship issues, and couple conflict. He co-owns Informed Therapy Resources and co-created Turnaround: Turning Fear Into Freedom™, a professional and creative audio program designed to help kids get free from anxiety and fear (myanxiouschild.com). He has 3 Masters Degrees and is finishing a PhD in Counselor Education and Supervision. He gives lectures on parenting and improving couple relationships. He has been in private practice since 1998 and is married with 3 children.
# # #