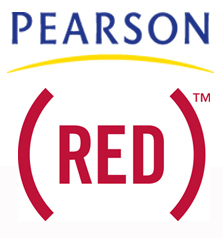 We're excited to tap into that passion and include them in the process of generating new ideas to help in the fight against AIDS in Africa.
New York, NY (PRWEB) March 30, 2010
Make a difference: that is the guiding force behind "Pearson Presents the (RED) Challenge," through which Principles of Marketing students across the country can help to fight AIDS in Africa.
Sponsored by Pearson, the authors of Marketing: Real People, Real Choices - Michael R. Solomon, Greg W. Marshall, Elnora W. Stuart - and (RED), the contest asks Principles of Marketing students to create their own marketing plan for a product targeted to college students that would fit into the (RED) product line and that would help raise awareness of and drive contributions to (RED)'s mission to help fight AIDS in Africa. Participating students should submit short videos (between 30 and 90 seconds) describing their proposed product by April 15 through the contest's Facebook site.
The public can view and vote on the video entries through April 25 to select the top ten submissions, which will then be reviewed by (RED) representatives. The Grand Prize winning team will be announced on May 10, and the winning students and their professor will be flown to New York to present their submission to the (RED) team.
"Through this important competition, Principles of Marketing students have an opportunity to gain real marketing experience outside the classroom, turning their knowledge and skills into a tangible product," said Anne Fahlgren, Senior Marketing Manager, Pearson. "Through their participation, they can make a positive impact on the world by working with a company that is making a difference in the lives of those affected by AIDS in Africa."
"Since we launched, college students have embraced (RED) and been some of the most enthusiastic supporters of our mission," said Jenifer Willig, Global CMO, (RED). "We're excited to tap into that passion and include them in the process of generating new ideas to help in the fight against AIDS in Africa."
For more information on the Challenge's rules and on how to enter, visit Facebook.
About Pearson:
Pearson (NYSE:PSO), the global leader in education, teacher training, education technology and school solutions, provides innovative print and digital education materials for preK through college, student information systems and learning management systems, teacher professional development, career certification programs, and testing and assessment products that set the standard for the industry.
About (RED)™and (PRODUCT) RED™:
(RED)'s primary objective is to engage the private sector in raising awareness and funds for the Global Fund, to help eliminate AIDS in Africa. Companies whose products take on the (PRODUCT) RED mark contribute a significant percentage of the sales or portion of the profits from that product to the Global Fund to help finance AIDS programs in Africa, with an emphasis on the health of women and children. Current partners are: American Express (U.K. only), Apple, Bugaboo, Converse, Gap, Emporio Armani, FLOWE(RED) (U.K. only), Hallmark (US only), Dell, Nike, and Starbucks. Since its launch in the Spring of 2006, $140 million has been generated by (RED) partners and events for the Global Fund. (RED) money is at work in Swaziland, Rwanda, Ghana, and Lesotho and supports programs that have reached more than 5 million people. For more information, visit http://www.joinred.com.
About The Global Fund to Fight AIDS, Tuberculosis and Malaria:
The Global Fund is a unique global public/private partnership dedicated to attracting and disbursing additional resources to prevent and treat HIV/AIDS, tuberculosis and malaria. This partnership between governments, civil society, the private sector and affected communities represents a new approach to international health financing. The Global Fund works in close collaboration with other bilateral and multilateral organizations to supplement existing efforts dealing with the three diseases.
Since its creation in 2002, the Global Fund has become the dominant financier of programs to fight AIDS, tuberculosis and malaria, with approved funding of US$ 19.3 billion in 144 countries. To date, programs supported by the Global Fund have averted more than 4.9 million deaths through providing AIDS treatment for 2.5 million people, TB treatment for 6 million people, and by the distribution of 104 million insecticide-treated bed nets for the prevention of malaria worldwide. The Global Fund provides nearly a quarter of all international financing for AIDS globally, as well as three-fifths for TB and malaria. (RED)™ is the Global Fund's largest private sector contributor. For more information visit http://www.theglobalfund.org.
###