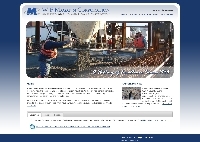 We reached out to... the iaffectWeb team and they delivered
Yorktown, VA (PRWEB) March 31, 2010
For more than 60 years W.F. Magann has been helping municipalities, government entities and private businesses with their marine construction needs. But their expertise was not adequately reflected in their online presence. That is until iaffectWeb stepped in to help them. W.F. Magann now has a new website that reflects the company's capabilities and experience.
"We had done something ourselves but we needed something more professional and to the caliber of other sites online," said Andy Newton, quality control director and procurement manager for W.F. Magann. "We reached out to Nate Shaw and the iaffectWeb team and they delivered."
W.F. Magann specializes in marine construction projects including pile driving, heavy concrete work, cofferdams, earthwork, piers, docks and demolition. The company also works in precision layout, material management and quality control with its clients. The iaffectWeb team worked closely with Newton and other team members at W.F. Magann to create a site that told the story of the company and its services.
"We reviewed the company's history, identity and current brand, which resulted in a design that is sleek and modern, yet still reflects the strength, trust and history of the W.F. Magann brand," Shaw said. "We interviewed the W.F. Magann website team to learn what information was important to present to their current and perspective clients. All of our research led to a comprehensive, yet user-friendly, navigation scheme for the new W.F. Magann website."
The site is exactly what the company needed, Newton said. "We wanted an "electronic brochure" to show our clients," he added. "This site is the perfect place for our clients to go to learn more about us and it's a great looking site."
The new W.F. Magann website is located at http://www.wfmagann.com.
About iaffectWeb: iaffectWeb provides web design and development services, website SEO services, professional search engine marketing services and SEO copywriting services. The company is located in the Hampton Roads area of Virginia and works with businesses around the world.
###