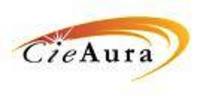 Houston, TX (PRWEB) March 31, 2010
CieAura LLC, distributor of CieAura Transparent Holographic Chips™, successfully launched its direct sales company with an exciting multi-media event at the Hilton Americas in Houston, Texas on March 18 – 21, 2010. Complete with smoke machines, 2 huge video screens, first class stage set-ups, surround sound and confetti, the dramatic entry of the executive team and key leaders wearing orange NASA uniforms, was met by thunderous applause by over 3000 attendees.
Exciting New Products
CieAura's new products will fill a tremendous need in the health and wellness marketplace. With the growing concern about the effects that cell phones may have on our bodies and the desire of those that compete in sports or workout, looking for that competitive edge, two new exciting products, EMF and CX2, were introduced to meet that need and bring greater value to CieAura's Independent Retailers and customers.
The EMF chip counteracts harmful cell phone EMF emissions and fortifies the body's natural resistance to protect against them. CX2 is specifically designed to enhance athletic performance. This product helps athletes gain a natural edge in competition with two different chips in the same package. The Professional Strength Energy Chip significantly improves endurance, mental clarity and focus, stamina, balance and muscle mass for workout or competition. A second chip, the Circulation Chip is designed to be placed on the body in the spot most likely to get hurt or sore during athletic competition.
CX2 is recommended by major athletes and celebrities like Rudy Tomjanovich, Tim Brown, Elvin Hayes, Brian Jones, Robert Hubble, Mike Barber, and Lisa Leslie. Celebrated athlete and winner of more games (45) than any quarterback in NCAA history, Colt McCoy took to the stage with CieAura's Lead Marketer, John Taylor, to speak about the benefits of CX2 and encourage athletes to find their competitive edge chemical-free and 100% natural.
CieAura Event Highlights
Additional highlights included announcements of new members to CieAura's Advisory Board, Medical Board and Presidential Advisory Council. CieAura also introduced a host of new training and marketing systems to equip Independent Retailers with the best industry tools a direct sales company can offer. The tools consisted of a new product, opportunity and testimonial video featuring celebrity athletes and medical professionals, a cutting-edge CX2 commercial, a comprehensive business training video, and Empower Magazine.
According to Senior VP Jerry Yerke, "This magazine not only tells the CieAura story, but it features CieAura products, and brings home the many success stories of CieAura leadership. In my opinion, this world class magazine will be found on coffee tables and in waiting rooms around the world. Everyone will want to read this magazine."
A preview was shown of the new CieAura website which features a cleaner design, simplified navigation and customizable landing pages to help Independent Retailers choose the way they want to market their CieAura business.
CieAura closed out its weekend Launch celebration with a Red Carpet Gala complete with an elegant dinner, featuring first class entertainment from a comedic magician and live band. CieAura President, Randy Mitchell, remarked, "The energy was just as high as it was from the beginning of the conference. You could see a community being built that is ready and able to make a positive impact in the health and wellness arena. It was CieAura's goal to have every retailer leave empowered, educated and entertained. The success of this launch far-exceeded all expectations."
About CieAura, LLC – Creating Total Balance for Life. CieAura is a U.S.-based direct sales company distributing CieAura Transparent Holographic Chips™. CieAura provides opportunities for the everyday person to become Independent Retailers with exclusive rights to market and distribute revolutionary products at minimal cost and with competitive compensation incentives. To learn more about CieAura, visit: http://www.CieAura.com.
# # #