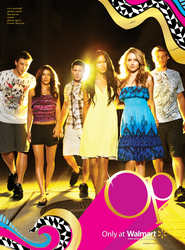 Los Angeles, CA (PRWEB) March 31, 2010
Op "Rock Your Shine" spring 2010 multi-media marketing campaign features today's hottest television, film and music celebrities: Jessica Szohr of the CW's Gossip Girl, R&B singer Cassie, Dianna Agron and Cory Monteith of the Fox hit show Glee, Alex Meraz of The Twilight Saga: New Moon and Eclipse and Trevor Donovan of the CW's 90210.
The Op cast was photographed at Universal Studios in California by lifestyle photographer, Larry Bartholomew as they take part in a summer block party, hanging out in a hammock, barbequing and getting ready to go surfing. The stars wear shine-inspired clothing which is exclusively available at Walmart in the United States and online to Walmart.com.
"The great thing about Op is that it is very accessible. You can grab it at Walmart. The looks are original and affordable," commented Cory Monteith.
Jessica Szohr stated, "The latest trend for Spring is shine and Op has it first. The clothes are so great, especially the amazing bikinis and shorts."
The national print campaign will debut with a series of metallic ads in June/July issues of Seventeen, and Teen Vogue, outdoor and online at http://www.op.com.
In addition, the celebrities will host an Op party in Los Angeles in late April and make personal appearances on behalf of the brand.
ONLINE / PRINT / TV MEDIA:
Celebrity, Behind-the-Scenes and Sizzle Video, Photo Stills and Press Information is available to preview, download and share at magicbulletmedia.com/MNR/OpRockYourShine
BROADCAST:
**Satellite Feed of B-Roll Package Available**
Feed 1: Wednesday, March 31 at 10:15 AM – 10:30 AM, ET
Feed 2: Wednesday March 31 at 1:15 PM – 1:30 PM, ET
Feed 3: Thursday, April 1 at 10:45 AM – 11:00 AM, ET
Coordinates for all feeds: 10:45 AM – 11:00 AM, ET; DL Freq: 3880 (H)
Trouble#: (212) 722-3195; Audio 6.2/6.8
###