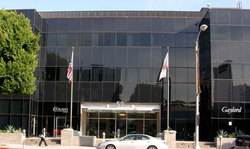 We will be even more Available and Accessible to our patients
Beverly Hills, CA (Vocus) March 31, 2010
The Khanna Institute opens new office in Beverly Hills
Beverly Hills, California is one of the most prestigious and luxurious cities in the world. The city is known for its famous zip code, phenomenal shopping and renowned celebrities that frequent the area. Beverly Hills is an eminent and admirable area and is recognized all over the world. So it is no surprise that superior individuals in each field choose to practice in Beverly Hills. Dr. Rajesh Khanna M.D. is no exception.
Dr. Khanna is one of America's top ophthalmologists; he is certified by the American board of ophthalmology and has been trained in prestigious institutions across the county. The Khanna institute recently expanded by opening a new practice in Beverly Hills. Beverly Hills proved to be a great location for various reasons. Beverly Hills is centrally located for all patients that live in the Los Angeles area. It is also substantially close to LAX- Los Angeles international airport making it convenient and feasible for individuals who fly in from out of state for their surgical procedure. Beverly Hills is also located near Hollywood the heart of Los Angeles, making it ideal for celebrity clientele.
The Beverly Hills Office will have the latest ophthalmic diagnostic equipment. It will also provide state of the art surgical technologies. Dr. Khanna will be offering All Laser Lasik, Superlasik, Intralase assisted Intacs and even Intralase assisted Corneal transplants. At the surgical center he will be able to offer small incision no stitch cataract surgery, PRELEX Surgery and Restor/ Crystalens.
Staar Collamer Phakic ICL's will also be on the menu. The Khanna institute is extremely pleased to be expanding to Beverly Hills. "We will be even more Available and Accessible to our patients" said Dr. Khanna. The clientele and the area are phenomenal and they are excited for what the future will bring.
Khanna Institute of Lasik & Refractive Surgery is a well known eye surgery center in the Los Angeles area. Catering to individuals with vision needs; their mission is to give superior care to patients all over southern California. Dr. Khanna believes in giving every patient the gift of vision, he has even performed on patients that are legally blind; these patients now have better vision than ever before. The Khanna institute has been advancing in the medical world for over 10 years. Dr. Khanna ensures the safety and success of the surgery by using small incisions and no stitches, allowing patients to return to daily activities and attend work sooner. famous clientele include Brenda Song, Corbin Bleu and Butch Patrick.
Contact: Kelly Schneider Rajesh Khanna, MD Khanna Institute of Lasik Surgery 50 N La Cienga Blvd Beverly Hills 90211 Phone: 805-230-2126 Fax: 805-230-2199 http://www.khannainstitute.com
###