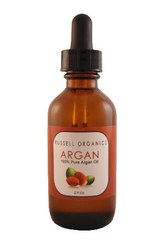 Wallingford, CT (PRWEB) March 31, 2010
Russell Organics, a certified cruelty-free, certified vegan and organic skin care line, today launched a 2-ounce jar of 100% Certified Organic Argan Oil. Known for its incredible moisturizing benefits for both the skin and the hair, Argan Oil is gaining buzz in the beauty and hair industries for its richness in antioxidants and omega 6 fatty acids. Russell Organics is offering the rare substance reported as "liquid gold" in it's most purest form, with no additives, fillers, fragrance or toxins - just 100% Certified Organic Argan Oil.
Argan Oil is extracted from the fruit kernels of the Argan tree, native only to Morocco and prized for centuries for its many uses including cooking, medicine and cosmetics. The extracted oil contains more vitamin E than olive oil and is inherently rich in phenols, carotenes and fatty acids including oleic (42%), linoleic (36.8%), palmitic (12%) and stearic (6%). These inherent ingredients provide regenerative and restorative benefits to the body with the nutrients necessary for a healthy and vibrant complexion. Argan Oil also contains saponins, which help soften the skin and restore its water lipid layer, thereby minimizing wrinkles and stretch marks.
To use on the skin, apply a few drops, rub into the skin and use as a daily moisturizer on the face or body for any skin type. Argan Oil can be used as a stand-alone moisturizer or can be applied beneath a face crème for an extra hydrating and deeply penetrating effect. As a hair treatment, apply a few drops of Argan Oil through the ends of towel-dried hair and dry as usual. The rich, fatty acids create a lustrous sheen to hair making it more manageable and reducing split ends.
Russell Organics Argan Oil retails for $28.00, and is available for purchase online or at select retailers nationwide. Because only a few drops are needed, the oil is an economical choice with a variety of uses. For a complete list of retailers or to learn more about Russell Organics line of products, please visit http://www.russellorganics.com
About Russell Organics
Russell Organics, a leading prestige natural beauty products company, formulates outstanding products that are highly prized for their effective, yet gentle results. Searching globally for the absolute finest raw ingredients, the company strives to offer the highest quality, and purest products. Certified Vegan and Certified Cruelty Free.
###