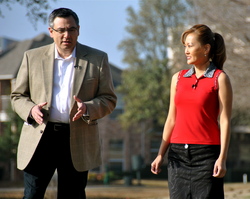 "This is my chance to practice what I've been preaching. I've put together plenty of stories about how web-based video and social networks are rewriting the rules for traditional media. Now I get to play in this digital sandbox", said San Miguel.
Dallas, TX (PRWEB) March 31, 2010
Apparently, thirteen years of reporting on how digital technologies have revolutionized the media business proved to be too tempting for Renay San Miguel. The 30-year veteran of local and national broadcast news is returning to Dallas to join spark360, which blends network news-style production with online video and social media as a way to help small and medium-sized businesses tell their stories to the world.
San Miguel, who was an anchor/tech reporter for CNN/CNN Headline News from 2001-2007, will serve as host/managing editor for spark360's "social business news" programming. He will interview company executives on location and in the spark360 studios, help produce stories on those companies, and will also provide various forms of digital content for the spark360 Distribution model - blog posts, press releases and behind-the-scenes footage from the production team's shoots.
"This is my chance to practice what I've been preaching," said San Miguel, who covered technology for CNBC during the dot-com boom of 1997-2000. "I've put together plenty of stories about how web-based video and social networks are rewriting the rules for traditional media. I've also written columns about journalists having to adapt to this new media landscape. Now I get to play in this digital sandbox with a top-notch production team at spark360 and Splash Media - and I get to make trips back to Texas, where I was born and raised, to do it. It doesn't get much better than that."
"We are thrilled that Renay is joining the spark360 team. He brings a lot to the table with his professional broadcast experience as well as an extremely clear vision for our 'social business news' programming," said Chris Kraft, President of spark360 parent Splash Media, L.P.
San Miguel was hired as an anchor/tech reporter for CNN Headline News, but shortly after his arrival at the network in September 2001, he was put to work on the military beat as the U.S. responded to the attacks of Sept. 11th. He also helped staff the CNN military desk for the invasion of Iraq in 2003, interviewing military experts such as Gen. Wesley Clark. In addition to general news anchoring at Headline News, San Miguel also filled-in as a CNN anchor. His technology reporting for CNN/Headline News included trips to Las Vegas for the Consumer Electronics Show, where he also provided digital content such as podcasts and blog posts for CNN.com. He launched the weekly "Digital Life" podcast for CNN.com and won a Cybersecurity Journalism award from Carnegie Mellon University and the Newseum for his CNN.com/HLN technology column.
Before his time at CNN's Atlanta headquarters, San Miguel served as a technology reporter for CNBC, where he covered the Nasdaq marketsite and charted the growth of hardware and software companies and the then-nascent Internet industry. He's interviewed tech luminaries such as Steve Jobs, Bill Gates, Michael Dell, Craig Barrett and Jeff Bezos.
San Miguel's started his journalism career at the same time computers began showing up in newsrooms around the country. He was hired as a rewrite clerk for his hometown newspaper, the Standard-Times in San Angelo, Texas, in 1979. He was promoted to full-time reporter in 1982, and he remembers being one of the first in the newsroom to use the great-grandfather of laptop computers - the Radio Shack TRS-80 - to cover Friday night high school football games.
San Miguel shifted to broadcast television in 1985. He worked as an anchor/reporter for TV stations in San Angelo, Austin and San Francisco before being hired as an education reporter for Dallas' WFAA-TV in 1991. He added politics to his list of beats, covering presidential campaigns in 1992 and 1996, and was also promoted to morning/noon anchor. San Miguel helped launch WFAA's "La Vida," a public affairs newsmagazine focusing on the Latino community in North Texas, serving as its first host/managing editor. He won a regional Emmy Award for his contributions to a WFAA special on media violence, a Texas School Bell Award from the Texas State Teachers Association for education reporting and a Casey Award from the University of Maryland for his reporting on a Channel 8 documentary, "From Welfare to Work."
San Miguel has formed his own media content company, Primo Media LLC. He is a reporter/columnist for the ECT News Network, parent company of the E-Commerce Times, TechNewsWorld.com and MacNewsWorld.com. He also contributes weekly technology reports and fill-in anchor work for the NBC affiliate in Seattle and Northwest Cable News, and has appeared on Fox Business Network.
About spark360:
spark360 is a Web-based business television program that celebrates the spark of entrepreneurship in America by featuring the unique stories of small and middle-market businesses.
spark360 also provides a credible and relevant outlet to get your story to a global marketplace through our exclusive 360 Distribution social media platform. spark360 delivers broadcast-quality, network news-style programs via a comprehensive SEO-optimized "full circle" distribution strategy that reaches every corner of the Internet.spark360 is a division of Splash Media, L.P.
For media inquiries for spark360, please contact: Steven Swaim sswaim (at) spark360 (dot) tv
About Splash Media:
Splash Media L.P., based in Addison, Texas, creates and develops custom web-based communications and training solutions that are powered by video. We specialize in developing video communications strategies and video delivery platforms that drive our customer's bottom line. Splash Media is a leader in the Enterprise Video Communications industry and has been delivering Internet enabled strategic video solutions since 2004.
For media inquiries for Splash Media, please contact: Chris Kraft ckraft (at) splashmedia (dot) com
###