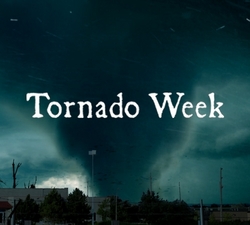 Atlanta, GA (PRWEB) March 31, 2010
The Weather Channel (TWC) kicks off "Tornado Week," its most popular programming event, with a whole new look and approach – allowing the viewer to experience the thrill of the storm. Complementing a week of tornado-themed programming, TWC will launch a tornado simulator, to experience and control a custom tornado – sending simulated pigs, trains and automobiles flying through the air.
"Tornado Week" begins with a brand new season of Storm Stories April 4 at 8 p.m. ET, hosted by meteorologist and Storm Tracker Jim Cantore. In addition, TWC will broadcast live reports with tornado experts Mike Bettes and Dr. Greg Forbes from locations where tornadoes have touched down.
"Tornado Week" programming line-up and specials include:

Along with host Jim Cantore, witness harrowing and inspiring tales from survivors and rescuers battling amazing weather events in Storm Stories beginning with "Enterprise Tornado," where Alabama high school students witness the destruction and aftermath of a powerful EF-4 tornado. The new season kicks off with six new episodes premiering during "Tornado Week."(See following page for episode descriptions)
"Into the Tornado" simulator game launches March 29 at http://www.weather.com/intothetornado allowing thrill-seekers to get as close as anyone should ever get to a tornado. The game will allow users to build their own tornado by selecting the wind speed, size and objects they want to test. Drop in a hot rod, a locomotive or even a pig to see how a tornado impacts an assortment of objects.
To bring viewers even closer to tornadoes, TWC will offer live reports from the field with meteorologist Mike Bettes and severe weather expert Dr. Greg Forbes, who will be in Greensburg, KS, on April 4 and in Parkersburg, IA, on April 6, where destructive tornadoes have touched down in both cities.
Get a sneak peek of the first two episodes of Storm Riders on April 4 at 9 p.m. ET. This raw, behind-the-scenes storm hunt follows scientists who are armed with nothing more than a meteorology degree, map and cell phone as they rely on their metrology education and gut instincts to get them to the center of the storm.
Special premiere episode of Weather Proof "Tornadoes: The Twisted Truth," with meteorologist Stephanie Abrams premieres April 4 at 10 p.m. ET. Tornadoes produce some of the most intense weather conditions on the planet. Abrams and special effects technician Newton Wimer reveal how your home or car stacks up against deadly twisters.
Tornado-related episodes of It Could Happen Tomorrow, When Weather Changed History and additional episodes of Storm Stories will be shown throughout the week of April 4-10.
"Tornado Week" will also be featured on http://www.weather.com with tornado-related tips and information. Dr. Forbes, Bettes, Cantore and Abrams will provide blog entries and updates in real time throughout the week on Twitter (@tornadoweek) and Facebook (http://www.facebook.com/tornadoweek).
For more information about "Tornado Week" and shows, visit: http://www.weather.com/intothetornado
Storm Stories premiere episodes during "Tornado Week":
•"Enterprise Tornado" (Sunday, 8 p.m. ET) - Class is in session when a powerful EF-4 tornado sweeps through Enterprise, AL, in March 2007, destroying the local high school. Students and teachers share their horrifying tales of being caught in the middle of one of Mother Nature's fiercest storms. Hundreds of homes are destroyed, lives are lost and a small town is forever changed.
•"Atlanta Tornado" (Sunday, 8:30 p.m. ET) - A rare tornado hits downtown Atlanta, GA, catching thousands of people off guard. The twister halts the Southeastern Conference Basketball tournament when the Georgia Dome begins coming apart at the seams, and a residential complex begins to crumble around residents.

"Tornado Chasers" (Monday, 8 p.m. ET) - It's the ultimate road trip when three tornado-chasing rookies team up with a couple of chasing pros for the experience of a lifetime. They get more than they bargained for when they find themselves near a rain-wrapped tornado in Kirksville, MO, and get caught outdoors in a dry microburst in the plains of Nebraska.
"Midwest Outbreak" (Monday, 8:30 p.m. ET) - May 10, 2008. A tornado is sighted near Chetopa, Kansas. Before it is over, this mile-wide monster will destroy the town of Picher, OK, and claim more than 20 lives – including that of a 21-year-old firefighter from Missouri.
"Aurora Tornado" (Tuesday, 8 p.m. ET) - After a quiet start to the 2009 tornado season, an EF-2 touches down in rural Nebraska June 17. As it moves toward the city of Aurora, meteorologists track the storm and warn residents to take shelter. But for some residents, it takes seeing storm chasers parked outside their home to begin a frantic run for cover.
"Murfreesboro Tornado" (Tuesday, 8:30 p.m. ET) – Life in Murfreesboro, TN, located 35 miles from Nashville, was forever changed by a string of tornadoes that ripped through the town on April 10, 2009, flattening houses and ruining lives.
About The Weather Channel Companies
The Weather Channel Companies (TWCC) is made up of The Weather Channel television network, The Weather Channel digital properties, and Weather Services International (WSI). The Weather Channel® is based in Atlanta and is seen in more than 99 million U.S. households. TWC also operates Weatherscan, a 24-hour all-local weather network; The Weather Channel Radio Network; and The Weather Channel HD. The digital properties of TWC, which include the weather.com® site, The Weather Channel Desktop and The Weather Channel Mobile, reach more than 40 million unique users online each month and is the most popular source of online weather, news and information according to Nielsen//NetRatings. WSI, headquartered in Andover, MA, primarily provides business-to-business weather services, particularly for the media, aviation, marine and energy sectors. TWCC is owned by a consortium made up of NBC Universal and the private equity firms The Blackstone Group and Bain Capital. For more information, visit http://www.weather.com/press.
# # #