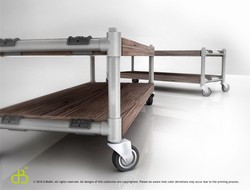 "The new collection is a throwback to traditional craftsmanship in its use of handcrafted reclaimed wood. Yet it is also modern, functional and relevant whilst mitigating the consequences of industrialisation by incorporating iron waste in its design."
Singapore (PRWEB) March 8, 2010
As Singapore embarks on the path to reducing carbon emissions, a homegrown eco-furniture company d-Bodhi has taken the "green" movement here to the international arena by staging the global launch of its "Industrial Revolution" collection, along with its premier of eco-bedding in the dB Linen Collection, at the International Furniture Fair Singapore 2010.
Ms Anita Sam, Co-Founder and Director of d-Bodhi says the new collection, which blends reclaimed teak wood with galvanised pipes made of recycled iron parts, represents an eclectic "clash" of the old and the new, which is the "way to go" in 2010. "The new collection is a throwback to traditional craftsmanship in its use of handcrafted reclaimed wood. Yet it is also modern, functional and relevant whilst mitigating the consequences of industrialisation by incorporating iron waste in its design."
Welcoming the launch of the new collection by one of Singapore's few Forest Stewardship Council (FSC)-certified furniture companies, Ms Kee Ai Nah, Director, Retail, Furniture, Textile and Apparel Division, SPRING Singapore, says it represents "a milestone in furniture design and paves the way for other companies to incorporate industrial waste materials in their furniture." "This bodes well for the nascent eco-furniture movement in Singapore," says Ms Kee. Spring Singapore has identified the eco-furniture industry as a high value niche market sector.
Spirit of renewal
The Industrial Revolution, which can be traced back to the invention of the Stocking Frame by Reverend William Lee in 1563, was characterised by the use – and abuse – or iron and steel, the development of the factory system and the emergence of industrial pollution and urban crowding. In line with a growing awareness of the environmental damage wrecked by industrialisation, d-Bodhi's new furniture collection symbolises the spirit of renewal by marrying the rustic texture of recycled teak wood with the smooth galvanised pipes of the machine age. This ushers in a new industrial revolution, one of industrial responsibility.
Ms Sam says, "'Old Wood, New Life, No Waste' embodies the d-Bodhi story. Last year, our emphasis was on reclaimed wood. This year, we have gone a step further by reclaiming iron - the 'building block' of industrialisation, which is also our way of contributing to the 'green' movement whilst raising the bar for creative furniture design."
An exciting addition to the d-Bodhi booth this year is the premier launch of the dB Linen Collection, eco-bedding in 100% organic cotton and linen fabrics. Besides the all natural fabrics, the three separate collections, Raw, Industrial, and Natural, each come with surprising details like fancy stitching, trimmings and contrasting fabric that adds a casual elegance to the beauty of the recycled teak wood beds.
Cross-pollinating "green" values
Since establishing itself as Singapore's largest reclaimed wood furniture showroom at Alexandra Industrial Estate in 2009, d-Bodhi has drawn a steady stream of visitors ranging from the simply curious to those wishing to upgrade their home furniture. Another group of visitors are arts enthusiasts who visit the showroom to view the art exhibits on display. Ms Sam sees this as a creative way of "cross-pollinating" green values.
She says, "The green furniture movement is still in its nascent stages in Singapore. Not everyone is aware of what 'FSC' stands for, and the stringent requirements of the Council, which is why we constantly develop new ideas to cross-pollinate green values, such as staging art exhibitions at the showroom."
In keeping with the company's philosophy, d-Bodhi will breathe "new life" into the IFFS 2010 by transforming its booth into an interactive showcase of the new industrial revolution. Members of the public can visit the booth on 12 March 2010 from 1700 – 1900 hrs. to understand this new model of industrial responsibility: of honoring the slow process of making products by hand that will last for generations and respecting the environment.
Award-winning designs
d-Bodhi's eco-friendly furniture lines won Best Exhibit Awards each year at the previous two IFFS shows, in 2008 for Dining Room Furniture and in 2009 for Bedroom Furniture. In 2008, at the HTC exhibition in the Netherlands, they won the Most Inspiring Presentation award.
d-Bodhi Booth and IFFS show details
d-Bodhi's 480 sqm booth is in the Singapore Expo Hall 5, D-E 11, #01-01, 1 Expo Drive, Singapore, 486150. Open to the Trade by business card registration only: 9-11 March 2010, 0900hrs – 1800hrs. 12 March 2010, 0900 hrs – 1700 hrs. Open to the public ONLY in the evening, 12 March 1700hrs – 1900hrs.
For additional information contact Leona Lo, Principal Consultant of Talk Sense at +65 9723 6075 or visit http://www.d-bodhi.com.
About d-Bodhi Pte Ltd
d-Bodhi was founded in November 2007 by Raymond Davids. d-Bhodi brings old wood back to life by designing and producing handmade furniture and handicrafts from reclaimed wood. Blending eco-friendliness and artistic taste, we constantly dream up creative new ways of turning old reclaimed wood into contemporary, stylish furniture, such as tables, cabinets, chairs and accessories.
# # #