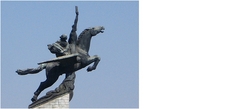 All holy books show our Creator's Mount as a key to peace.
Nampa, ID (PRWEB) April 6, 2010
A Pegasus statue of peace overlooks Pyongyang, North Korea and was erected to promote prosperity in Korea. Pegasus has 'lived' profoundly through traditional stories and sacred books as a symbol of peace and Heaven's conductor. An exhaustive non-fiction history of the Winged Horse has now found collective fruition in the upcoming book, "God's Steed Key to World Peace." The book unveils the angelic horse as universal Truth shared by all, and promotes understanding and tolerance that may lead to a 2012 Peace Festival and signed Peace Accord. Will the white dove sing?
The coauthors Daryl Breese and Gerald D'Aoust are attempting to complete the late Canadian L. J. Papineau's (1786-1871) 'Quest for World Peace'. 32,000 year old French cave art of a winged horse is on the cover. Ascended Masters from all religions are represented with the Horse of Peace in stories, illustrations and even current testimonies. Creation; Judgment Day; the Way to Heaven/Tree of Life; Peace; Soul/Spirit; Horsefeathers and Holy Spirit are shown as common stories in all religions.
The reconvergance of science and religion is explored. This book quotes LHC CERN Physicist Kyle Cranmer (Professor, NYU) from a 'Charles Rose Show' 3/30/2010 interview, "If we discover Heaven and extra dimensions, it will be considered a success." Understatement? Breese, a fluids engineer, connected 'M Theory's' 11 dimensions to 'Seven Heavens' years ago.
Breese is an active Papal Knight. He guests on talk shows answering the tough questions about Catholicism. Last year he 'unveiled' an underground booklet of quotes from the Virgin Mary "A Mother's Lessons", which the Vatican and Pope have suppressed because it deals with 'end times'. Breese published the story, pictures and interviews @ http://www.marysfinalmessage.com. Mary's ominous words from Idaho, USA - have Medjugorje, Montana and Guadalupe connections.
Religious leaders have received advanced pre-published copies of "God's Steed Key to World Peace" for review - and more are now available for the media. Email requests for copies and interviews.
Could the Age of Aquarius be dawning?
###