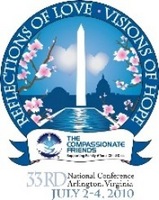 Mother's Day is an especially difficult holiday for those whose child has died
Oak Brook, IL (PRWEB) April 30, 2010
Mother's Day is a difficult holiday for those moms grieving the death of a child. Mothers in this situation can take solace in knowing there are two upcoming events they can attend that can help them in the grieving process.
Bereaved parents, siblings, and grandparents from across the country are invited to attend The Compassionate Friends 33rd National Conference in Arlington, VA July 2-4. The event culminates in the 11th annual Compassionate Friends Walk to Remember July 4 where names of thousands of children from around the country will be carried by family members and volunteers.
"Mother's Day is an especially difficult holiday for those whose child has died," says Patricia Loder, executive director of The Compassionate Friends which has nearly 620 chapters with locations in all 50 states plus Washington D.C. and Puerto Rico. "We are glad that they and their families can look forward to our national conference and Walk to Remember, events known for caring, sharing, and healing."
Keynoters for the conference, the largest of its kind in the United States, are: Gordon Smith, two-term U.S. Senator whose son died by suicide; Maria Housden, author of the popular Hannah's Gift: Lessons from a Life Fully Lived; Catherine Read, whose 19-year-old stepdaughter was killed in French class during the Virginia Tech shootings; and Helen Fitzgerald, nationally know psychotherapist and author of The Grieving Child, The Mourning Handbook, and The Grieving Teen.
With the theme "Reflections of Love - Visions of Hope," the conference will include over 110 workshops, a full sibling program, sharing sessions, a candle lighting, as well as a Reflection Room, Butterfly Boutique, a full bookstore, memory boards, and much more. There will also be a special performance Friday evening by the political satire group, The Capitol Steps.
The annual two-mile Compassionate Friends Walk to Remember© starts at 8 a.m. Sunday, July 4 and Mrs. Loder says they're expecting 1500 walkers to be carrying the names of more than 10,000 children, gone but never forgotten. Anyone who cannot attend and wants a volunteer to carry the name of a child being remembered can submit the name online at TCF's national website at http://www.compassionatefriends.org.
Registration is also available online and early registration, with reduced prices, ends May 31. Much more is planned and complete information is available on TCF's national website or by calling 877-969-0010.
# # #