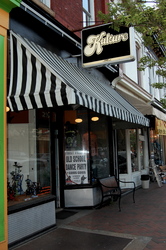 We pride ourselves in anticipating the the needs and desires of our customers as well as recognizing upcoming trends.
Richmond, VA (PRWEB) April 14, 2010
Evan Matthews and Justin Hale opened Kulture's doors as an outlet for the clothing and music related to the rave scene in Richmond, VA on June 28, 1999. A far cry from the Kulture of today, the store in its infancy had just one showcase with pipes in it. Through many revisions and adaptations in its lifetime, Kulture has become a store dedicated to the smoker.
After enjoying years of being a favorite of Richmond locals, Kulture became a destination to where smokers from around the state and beyond would travel. To better serve the rest of Virginia, Kulture opened additional locations in Charlottesville, VA (2007) and in Midlothian, VA (2009). Kulture provides a broad range of hand pipe and water pipe brands including Sheldon Black, US Tubes, ROOR, Toro, Olympic Glass, Sovereignty, SYN, Illadelph, PHX, Hurricane, and Chameleon, as well as pipes from some of the most widely recognized glassblowers in the country, including AKM, Box Fan, Chris Carlson, Christina Cody, Cowboy, El Hefe, Eric Ross, Freeek, Gasp, Ghost, Hops, JAG, JOP, Kennaroo, Mike Fro, Pakoh, Salt, Snic, Slinger, Voorhees, Zach P. and more.
Even though each location operates as part of the same Kulture brand and you'll have a very similar experience at each location, each store adapts to its locality. You'll find items that might only be available at that one location, such as locally made art, jewelry, and of course pipes by local glassblowers! "There is a high demand nowadays for locally made products and we like to support our local economy," says owner Justin Hale who co-owns Kulture with his partner Evan Matthews.
"We pride ourselves in anticipating the the needs and desires of our customers as well as recognizing upcoming trends." states Evan Matthews. "Sometimes a product that does well in one location remains stagnant in another. We frequently try out new products. If it doesn't work for us, we move on to another. We've been fine tuning our stock for a decade now!"
Kulture is currently celebrating 10 years in business and shows no signs of slowing. They have been hard at work this year releasing their own Kulture brand rolling papers, hosting a number of parties, and launching a newly redesigned web site.
In addition, there is a sidebar on the right side of every page linking the you to other social media sites Kulture uses to connect to their customers. On their Facebook fan page you can easily keep up to date with new products, ask questions, offer opinions and participate in contests and other interactive activities. Visit their Last.fm profile to check on what music is in heavy rotation at the shops. Check out their Youtube for videos of glassblowing and product demonstrations. You can also check out Kulture's Yelp page for reviews of their favorite local businesses.
About Kulture
Kulture is a smoke shop that caters to the conscious smoker as well as the glass collector. Kulture sells only American made glass and uses local sources whenever possible. There are Kulture locations in Richmond, Midlothian, and Charlottesville Virginia. Kulture is open 7 days a week. In their effort to prevent youth smoking, all stores practice an 18 and up policy. Visit http://www.kultureva.com, call 1-888-766-5303 or email us at ontheweb@kultureva.com for more information.
###