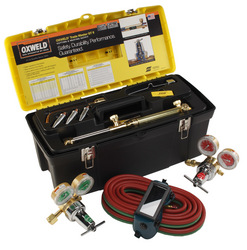 Florence, SC (PRWEB) April 6, 2010
ESAB Welding & Cutting Products introduces the OXWELD® Trade Master GT II Outfit, an extra heavy-duty outfit for hand-held oxy-fuel cutting and heating. This outfit is second-to-none in terms of quality, safety and durability and is perfect for all your cutting and heating needs. The kit contains three heavy-duty OXWELD cutting tips and one heating head, as well as a torch, regulators and everything you need for oxy-fuel cutting and heating, all contained in a convenient, rugged toolbox.
The OXWELD Trade Master GT II Outfit offers a standard cutting range up to 4 inches (100 mm) and heats up to 30 cfh acet. (44,000 BTU/hr) as outfitted. With optional heads and nozzles the kit can be used for cutting up to 8 inches (203 mm) and heating up to 200 cfh acet. (294,000 BTU/hr).
The kit features ESAB's R-72 regulators with solid brass bodies and built-in regulator burnout (RBO) protection. ESAB regulators incorporate a patented internal baffle design to prevent injury from cylinder-based fires. The regulators also feature color-coded gauges for easy gas identification. Brass body construction ensures long service life. These regulators are built for years of trouble-free performance with minimum maintenance. The Trade Master GT II kit comes with a lifetime warranty on the torches and regulators.
With more than 100 years of experience, ESAB Welding & Cutting Products is one of the world's largest and most knowledgeable manufacturers of welding and cutting equipment and welding filler metals. To ensure customer satisfaction, many ESAB products carry a 100% Satisfaction Guarantee. Recognized as the technological leader in the industry, ESAB is committed to providing customized solutions for its customers.
###