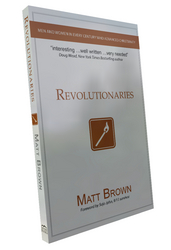 a riveting tale ... suddenly bam, you have just lived 2,000 years
Minneapolis, MN (PRWEB) April 10, 2010
Revolutionaries is a recently released, groundbreaking book by widely read blogger Matt Brown. He essentially quips that Christianity has grown over a period of millenniums from a small band of followers to what is generally seen today as the largest religion in the world, and no one is stopping to ask why, or what can we learn from this.
Brown systematically takes the reader through century by century discovering obscure men and women who gave sacrificially for the Christian faith to expand. These people, he dubs revolutionaries, for the society altering impact they had on various cultures and regions of the world they worked alongside.
Doug Wead, former White House special assistant to President George Bush & New York Times bestselling author states, "The book is not a 1,000 page encyclopedia of facts but rather a riveting tale, with one story blending seamlessly into the next. In fact, it is all stories, page turning, wonderful stories and then suddenly bam, you have just lived 2,000 years, thank you. The broad coverage is also the real value of the work. There are things we cannot see when we are too close. There are trends and patterns and re-cycled phenomenon that only appear when studied over centuries and in different parts of the world. The biggest surprise is to see how revolutionary and controversial Christianity has actually been throughout history. In fact, with rare exceptions, Christianity has always been controversial and under attack."
Revolutionaries opens appropriately with foreword by 9/11 survivor Sujo John, reminding the reader of our own great need in our day. Thus, the revolutionaries become more of a picture of hope in our generation, than simply a story from the past.
# # #