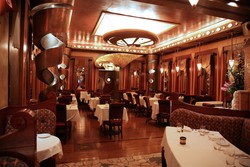 Chicago, IL (PRWEB) April 8, 2010
Vivere Restaurant, a celebrated Chicago dining landmark, is celebrating a significant landmark -- 20 years. In an industry subject to intense competition and high turnover, Vivere is highly distinguished by top quality service, sumptuous food and a second to none wine cellar. Join them this June for a month-long party.
The critically acclaimed, world renowned Vivere Restaurant holds the Midwest's largest and most decorated wine cellar, containing over 45,000 bottles and 2,000 different selections under Wine Director Michael Taylor. Vivere has received both Wine Spectator's and Esquires' "Best New Restaurants" award. Vivere has been recognized by Wine Spectator 20 times -- each and every year the restaurant has been in business – as well as the Wine Enthusiast Award of Distinction, Cheer's Magazines "Cheer's" award and the Dirona Fine dining award every year the award has been given.
Vivere was created by Alfredo and Gina Capitanini, the third generation Brother and Sister team who holds the reins to the Italian Village, an empire of Chicago restaurants including the 83 year old The Village and the 56 year old La Cantina Chop House.
Vivere has become a beloved Chicago institution; Chicagoans have awarded Vivere awards for "Best Italian, Most Romantic, Power Lunch Spot, Best Wine List, among a host of others. But it's not merely a Chicago institution. The restaurant has earned well-deserved national editorial recognition in the Wall Street Journal, Money Magazine, Restaurants and Intuitions, and the New York Times and featured on CNN and the Food Channel. Vivere's list of famous and influential clientele include celebrities from Jon Bon Jovi to Vice President Al Gore. Vivere is a Mecca for the Chicago's power elite. Mayor Daley and Patrick Ryan consider it their spot.
Vivere's Executive Chef Robert Reynald, winner of Chicago's Magazine's best upcoming chef award holds three stars from Phil Vettel. Reynald's bold, "new" Italian menu incorporates innovative organic dishes from his yearly travels throughout Italy. A unique tasting menu compliments the seasonal menu and displays the skill and progressive nature of the restaurant.
Featuring a contemporary twist on the baroque, draped in plush velvets and warmed by rich tones gold tones, Vivere's swank design was conceptualized by acclaimed designer Jordan Mozer. Interior Design Magazine has give Vivere its highest honor for restaurant design.
Vivere's has met the challenge to stay on top of today's economy. While they have streamlined purchasing, kept labor costs in line and allowed facilities costs to stay low. Even through this tough economy, Vivere has not laid off a single employee.
Vivere's 20th Anniversary celebrations will include a Wine Dinner with Piedmont, Italy's most sought after wine maker, Gianluca Grasso, Mixologist Adam Seger will serve his famous "HUM" cocktails with four courses, a Wine Auction from the Cellar for Charity, and during the month of July, Vivere will donate 20% of it meal check proceeds to a charity chosen by our patrons.
Media Contact:
Pamella Capitanini
71 W Monroe Street
Chicago, Illinois 60603
Telephone: Office: 1.312.332.4040
Cellular: 1.312.560.7676
Facsimile: 1.312.207.1706
Email: PSantii(at)aol(dot)com
Vivere
71 W Monroe Street
Chicago, Illinois 60603
http://www.Vivere-Chicago.com
###