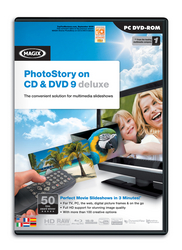 One of our focuses with PhotoStory has always been to create a program that anyone can use
Lanham, MD (Vocus) April 6, 2010
Showing slideshows in itself used to be an event, a gathering of family and friends sharing moments captured on film. In the past this would require the purchasing of a screen, a projector, slides that were expensive to develop, and of course the time to put together the show. As technology developed, and we entered the digital age people began to explore new possibilities with their digital media. According to several studies, people have found organizing their digital photos much easier than dealing with their non-digital ones. Other studies have found that with the relative ease of use that and low cost of many digital cameras has led to a proliferation of personal digital photographs in many people's collections.
MAGIX has created PhotoStory on CD & DVD 9 deluxe with this in mind-making organizing, preserving, and presenting your memories and only taking three minutes to do it.
PhotoStory on CD & DVD 9 deluxe is available April 2nd, 2010 for $89.99, and for a limited time $69.99, from MAGIX's online shop!
While many products offer to manage these photographs, MAGIX has created a high quality slideshow creation program. Utilizing many common electronic household devices such as personal computers, televisions, or even a digital picture frames, users can produce and share their creations in a variety of formats. With features that allow for the creation of photographic slideshows in minutes, PhotoStory allows you to burn them to DVD or CD for easy playing on all your home and personal media devices. With one button YouTubeTM and FlickrTM upload, users can share their creations on the net quickly without hassle. "One of our focuses with PhotoStory has always been to create a program that anyone can use," says Klaus Fischer, Product Manager for MAGIX PhotoStory, "we want people to be able to sit down and in three minutes have great results, with this version we have added easier interfaces and templates that will simply allow you to achieve professional results in a very limited time." Users can enhance their photos with this innovative photo presentation software, and share them with friends and families.
The organization of slideshows is made easier with MAGIX PhotoStory's wizards, creating DVD menus is a snap with the thematic and holiday templates that are included to allow users to quickly produce pre-laid out menus. PhotoStory allows users to make photo viewing an event again.
Highlights in the new version of MAGIX PhotoStory 9 deluxe
? Automation allows users to create stylish slideshows in three minutes. With thematic style guides and templates, users can include background music that is included in the package.
? Personalization of their workflow layout can be saved and reloaded at anytime.
? Travel route animation, this innovative animated map can trace user's travels for pinpointing exactly where and when images where taken.
? Templates for 3D titles, picture-in-picture collages, DVD menus and background music
? Integrated title editor with direct preview and improved quality for sharper fonts and softer shadows
? Expanded CD/DVD menu design with flexible buttons, submenus and hierarchies. Using an optical layout grid, design options can be altered in any image editing program.
? Supports uncompressed raw formats (RAW) from more than 280 camera models
? File exported and presented in high-resolution HD quality (ideal for presentations using a projector)
? Publish photos and slideshows directly on the FlickrTM Internet community website
? Plus: New MAGIX Photo Manager 9 and MAGIX Music Editor 3 with intuitive user navigation
? Optional: AVCHD support (import and burn hi-res videos including AC3 sound)
? Microsoft Windows 7TM support
For more information on MAGIX PhotoStory on CD & DVD 9 deluxe, or any other MAGIX product please contact:
Adam Zarboni
MAGIX AG
PR & Communications Manager, North America
One Valleywood Drive, Suite 302
Markham, Ontario L3R 5L9
T: +1 (905) 470-0400 x.225
F: +1 (905) 470-0403
Email: azarboni(at)magix(dot)net
Web: http://www.magix.com
###