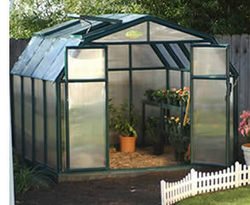 In a world full of evil and hate, there are few businesses left still fighting the good fight. Mini Greenhouse Kits is proud to be among the few left today, as all of their products promote green living and are environmentally friendly.
Lafayette, LA (PRWEB) April 10, 2010
Mini Greenhouse Kits has made it possible for the beginning or seasoned grower to take that first step toward a greener tomorrow. More than just a large warehouse for moving their products, the company also provides the customer, with the knowledge needed to set up your own greenhouse and make it flourish, no matter what area of the country you reside. The company recently announced their new line of hydroponics growing machines and custom built outdoor structures, which will be available at a retail and wholesale level.
The new product line includes a traditional style of growing machinery, but the twist is they are built with the latest technological additions. Among the new products is the LED growing pot, which is a flower pot with multi-color LED growing lights built in, it even has a remote control, with over forty options and preferences. For companies looking to buy wholesale equipment, they even are offering to make special plastic molds and items with custom logo's and designs, which is great for branding purposes.
Visitors can find up to date information on organic gardening, aeroponics gardening, new greenhouse technologies, and how to begin your own money making greenhouse business. A toll free number takes customers, to experts in the field, for any questions or problems.
Greenhouses have come a long way from the flimsy structures of yesterday with polycarbonate panels that will not discolor, roofs that open for needed sunshine and 20 year warranties that solidify these facts. Mini Greenhouse Kits has searched for the best manufacturers in greenhouses and accessories such as Rion Hobby Greenhouses, Juliana, Easy Grow and Flower House to guarantee a good future in growing.
Going green with your own vegetables and herbs is not difficult when you have the knowledge and right tools. The importance of composting, choosing LED grow lights, making compost tea and easy to follow greenhouse growing tips are free to everyone who is considering greenhouse growing.
Simply, ease into greenhouse growing environment, with a portable unit that is easily put up and take down. Select a permanent structure that will protect your plants year round that is made with wind resistant material. Sizes for portable structures begin as small as 6'7"h, 2'3"w, and 1'd with five sturdy shelves. Lean to greenhouses are perfect for keeping your plants close to your back door but protected from the weather. 4'long and 6'wide and very stylish, this type of greenhouse is a favorite among homeowners that are just beginning.
For those whom are unsure as to the type of kit that will be required or those just searching for help in choosing the right style for your gardening needs, visit the DIY gardening blog and ask the pro's. Information packed for anyone choosing to add more green ideas to their lives or to begin a more self-sufficient way of living, this company will provide everything needed to grow like a pro.
Mini Greenhouse Kits is based out of Youngsville, Louisiana, 70592, and can be reached toll-free at 866-606-3911, for any questions you may have. Visit their website at and discover a better and simpler way to bring green living into your world. Don't forget, they are running a special discount throughout the month of April, use coupon code #aprilsavings at checkout and get 15% off all products!
###